Posted Dec 08, 2022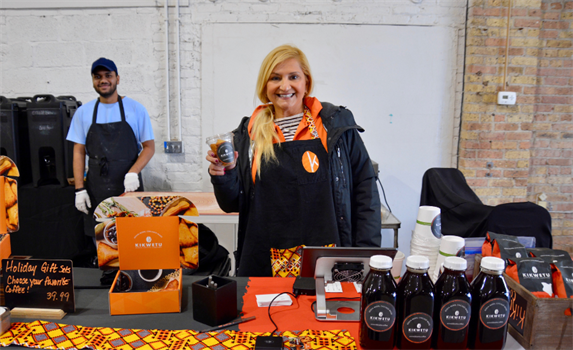 With the holidays right around the corner, it's time to start thinking about the perfect gifts to get your local food loving friends and family as well as the best things to bring to your next holiday party! The Green City Market indoor location, GCM Avondale, is the perfect place to pick up some excellent things for this holiday season.
It's always fun to stroll the market and see what stands out, but in case you'd like to plan, we've put together a list of our favorites from our GCM Avondale vendors to help give you some inspiration.
Check out the list below!
Shopping for the family chef or a friend who loves trying out new recipes? Brad from American Pride Microfarm offers knife sharpening and this is a great gift to offer all the chefs in your life.
Homemade pasta and sauce… Need we say more?! A perfect gift to bring with you for the host of your holiday party.
Coffee + bagels = the perfect brunch combo. Hosting a party? Pick up a dozen bagels from recently revamped Dorothy's Bistro and pair it with some locally-roasted, sustainably sourced, direct-trade coffee from Kikwketu which was recently listed as a bonus on Choose Chicago's 9 cozy coffee shops and cafes in Chicago.
P.S. Kikwetu also has an incredible cold brew!
P.P.S. Kikwetu is offering a holiday gift basket with a mix of their products! These can be purchased from Kikwetu at GCM Avondale or purchased online.
Hosting a party of your own? Stop by Finn's Ranch and Mint Creek Farm to grab all the locally sourced meat and eggs that you could need.
Do you get hungry when holiday shopping? Gayle V's Best Ever Grilled Cheese has got you covered! Pick up a delicious grilled cheese sandwich and cup of tomato soup to fuel your shopping day.
This next one is a favorite because it includes goodies from so many of our wonderful vendors. A great option for your next holiday party is to put together your own charcuterie board and we've got all the best products at GCM Avondale. Start by picking up some of J2K Capraio's handcrafted cheese products and small-batch and hand-tied salami, smoked and cured meats, as well as whole-muscle salumi, from Underground Meats. You can pair this with delicious bread from pHlour, Bungalow by Middle Brow and Bennison's Bakery. And don't forget to include a nice pop of color with honey and jam from Ellis Family Farms.
Joe's Blues is always a fun place to browse for a unique blueberry focused gift! Pick up a bar of Blueberry Mountain Soap, Blueberry Maple Syrup and more.
If you're interested in putting together a charcuterie board but don't have the time to pick out all your own ingredients, Joe's Blues is offering a special holiday Charcuterie GCM Holiday Gift Box. This is a special Charcuterie box with Saucisson Sec dry cured French sausage from Underground Meats, a tasty wedge of J2K Capraio Blank Slate goat cheese, Bike-a-Bee Chicago neighborhood culled honey, Joe's Blues pure Blueberry Raisins, and one of our their sweetener honey blueberry preserves.
This can be picked up at the upcoming GCM Avondale market or folks can order online.
Want to have a vegetarian option available at your holiday party? Phoenix Bean Tofu offers a delicious Tofu Salad that you can include on your holiday table.
All you need to know is that The Farmer's Daughter (Sarah!) has the most unique delicious baked goods all made with products from Severson Organic Grains. These homemade treats are the perfect treats to give your friend with a sweet tooth!
If you're planning to be a guest at a holiday party, it's always a fun idea to bring the host a harvest basket with products from all of GCM's local, sustainable farmers. This is a great way to get a mix of seasonal produce that your hosts can use after their party is over.
We hope this list inspired you for all your holiday needs. If you pick up something cool from GCM Avondale, be sure to snap a pic and tag @greencitymarket on Instagram.