Posted Nov 16, 2022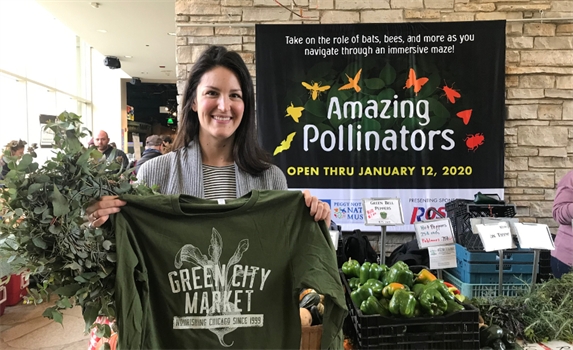 We're so excited to share that after a two-year pandemic pause, Green City Market will be operating a winter market at a new location in Avondale. GCM Avondale will operate from 8 a.m. - 1 p.m. select Saturdays December - March.
"It's time for hearty root vegetables and sweet winter greens to shine once again," shares Mandy Moody, executive director of Green City Market. "Local winter flavors are comforting, deep, savory - simply delicious and are made all the more tasty when you shop from local, sustainable farmers."
We are thrilled to provide a marketplace for 20+ local, sustainable farmers and food vendors throughout the winter season. So, the question is: who will be there and what can you expect?
Shoppers can expect to see many of their favorite farmers and food producers from GCM Lincoln Park and GCM West Loop this winter. The list of participating vendors includes Ellis Family Farms, Finn's Ranch, American Pride Microfarm, pHlour Baker, Dorothy's Bistro, and more. Customers will see a variety of produce options, such as apples, carrots, microgreens, mushrooms, in addition to meat, eggs, baked goods, prepared foods, and so much more.
Bradford Hathaway, owner of American Pride Microfarm shared, "American Pride Microfarm is delighted for the return of the Green City Winter Market 2022/2023 season! The Microfarm will be showcasing multiple varieties of microgreens, offering wheatgrass juice shots, pet grass for cats, dogs, and other furry pets, and knife sharpening!"
Check out the full list of GCM Avondale vendors below:
Gayle V's Best Ever Grilled Cheese
We are so excited to welcome so many GCM favorites to our first season in Avondale. We're also excited to share that GCM will continue to provide a triple match on Supplemental Nutrition Assistance Program (SNAP) benefits at GCM Avondale up to $25. When shoppers using SNAP spend $25 of benefits at Green City Market, they actually receive $75 in market currency to spend at the market like cash. Additionally, thanks to a generous community of donors, GCM will triple-match Pandemic EBT benefits for Chicago students.
GCM Avondale is located at 3031 N Rockwell St. This is steps from the Rockwell on the River building complex which is home to Metropolitan Brewing, Judson and Moore, Soul & Smoke, and more. Individuals in the neighborhood may be familiar with the GCM Avondale space as the former indoor market location of the Logan Square Farmers' Market.
GCM Avondale will be open from 8 a.m. - 1 p.m. on the following dates: December 3, December 10, December 17, January 7, January 21, February 4, February 18, March 4, and March 18. We can't wait to see you all there!