Posted Mar 18, 2022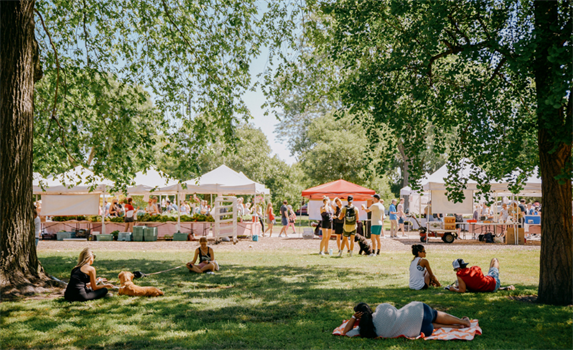 Green City Market is officially reopening its Lincoln Park location on Saturday, April 2, 2022 and its West Loop location on Saturday, May 7, 2022.
After receiving permit approval from the city to open a month ahead of schedule at both its locations, GCM launched a campaign to raise funds to support the increased costs of operating an extended season.
"It might shock people to learn that it costs more than $200,000 each year to operate our markets," explains GCM Executive Director Mandy Moody. "From permit fees to portalet rentals, market expenses aren't exactly the most exciting things to talk about; but the costs are significant for a market of our scale."
To keep the market affordable for small-scale, local farmers, vendor fees cover less than 40% of the costs to operate the market. Remaining expenses are funded through charitable contributions made by individuals and businesses.
Chris and Lisa Zastrow of Wholesome Harvest Farm shared,
"Many of us as farmers have things growing and ready for market at this time of the year, and this gives us a great opportunity to expand upon those offerings. We're also excited to be able to connect with all of our customers for several extra weeks a season."
In 2022, GCM Lincoln Park will operate every Saturday in April from 8 a.m. to 1 p.m. and then every Wednesday and Saturday, May through October from 7 a.m. to 1 p.m. GCM West Loop will operate every Saturday, May through October from 8 a.m. to 1 p.m. in Mary Bartelme Park.
GCM's 2022 extended outdoor season will feature 58 local farmers and food producers, including long-time favorites like Nichols Farm & Orchard and Mick Klug Farm as well as seven new vendors. New farms include Flatwater Farms, a USDA Certified Organic produce farm located in Buchanan, Michigan and Kankakee Valley Homestead, a Certified Naturally Grown produce farm located in Walkerton, Indiana.
New ready-to-eat food vendors include Molino Tortilleria, an heirloom corn tortilla producer sourcing corn from local farmers, and Flat & Point, a restaurant based in Logan Square that will be selling sourdough, bagels, and other baked goods using local grains.
Plus, starting in its 2022 outdoor season, GCM will increase its SNAP benefits match from $15 to $25 to help maximize food assistance benefits for Chicagoans facing food insecurity.
"Shoppers who use an EBT card like the Illinois Link card can double their purchasing power at Green City Market," explains Moody. "This donor-funded program is critical to expanding food access throughout the city. Last year neighbors from more than 70 zip codes across the city visited Green City Market to use the program".
View upcoming markets and plan your visit today.