Posted Jan 26, 2023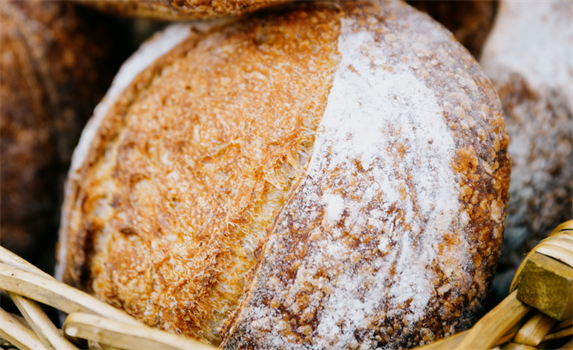 When people think of the farmers' market, they often think of fresh produce, meat, and eggs from the farmers. While Green City Market has several vendors who offer exactly that, another large part of our offerings comes from local bakeries. Local bakeries, like all culinary establishments, play a key role in the support and success of local farmers through wholesale partnerships.
At Green City Market, our bakeries all source from local sustainably produced farms, many of which actually vend at GCM. It's always great to see how local bakeries use products from our farmers to highlight the seasonal flavors of the Midwest.
Between the several bakeries at GCM you'll find many pastries, pies and croissants. Beyond that, we also get the chance to offer our customers multiple types of bread. With all the options available, we got to thinking that many people probably don't know the differences between different types of bread.
We talked with Taylor Bruns, co-owner of Dorothy's Bistro which is one of the fan-favorite bakeries at Green City Market. Taylor shared some information about the differences between two common breads we see at the market, sourdough and focaccia.
Taylor shared that sourdough is made using flour and water, and focaccia is made using flour and oil.
We dug a little deeper to look at the differences between the two bread types, so you have all you ~knead~ to know for your next trip to Green City Market.
According to BBC Good Foods, sourdough is a naturally leavened bread made from water, flour and salt. They explained that this means that instead of using commercial yeast, "it uses a 'starter' – a fermented flour and water mixture that contains wild yeast and good bacteria – to rise." They went on to explain that it's this starter that is responsible for the tangy flavor that you will often find in sourdough loaves.
Sourdough's tangy flavor pairs well with several different foods. Just last week at the market, we sampled sourdough from pHlour Bakery and paired it with black walnut jam from Oriana's Orchard. From jams to cheese to eggs, sourdough is almost always a good addition to your plate.
As Taylor explained, focaccia is made with flour and oil. We turned to Bon Appetit to learn a bit more about Focaccia. They shared that, "Focaccia is an olive oil-rich Italian bread we can't decide is better described metaphorically as a sponge or a springy mattress. It's crispy and golden on the top and bottom crusts, and inside, it has an airy crumb (meaning there are tons of air holes, big and small, that squish in the best way possible)."
The Spruce Eats also had some really interesting facts about focaccia including that to make a successful focaccia loaf, having a very hot oven is often key. They shared that "It's recommended that to make focaccia at home, the oven should be preheated to 475 degrees Fahrenheit." They also shared that due to its high olive oil content, focaccia often keeps fresh longer than other types of bread.
As mentioned above, bread is just one thing that you will often see at the market. But there are lots of other options available. One of those options is canelés. Taylor Bruns shared that these are small pastries from Bordeaux that feature rum and vanilla. Taylor told us that in order to considered a canelé, it must meet the following five criteria:
You must use beeswax

You must use a copper tin

You must use clarified butter

You must use rum

You must use vanilla
Interested in giving a canelé or some of the delicious bread available a try? Stop by GCM Avondale to pick some up. Our next market date is on February 4 from 8 a.m. - 1 p.m. Want to know which vendors are available at GCM Avondale? Check out the list here.
In other GCM Bakery news. Two of our bakeries were nominated for Chicago Reader's Best Of 2022 awards. Bungalow by Middle Brow & pHlour Bakery were both nominated for Best Bread AND Best Sourdough. Be sure to vote for them and for GCM as the Best Farmers Market here.