Posted Jan 09, 2023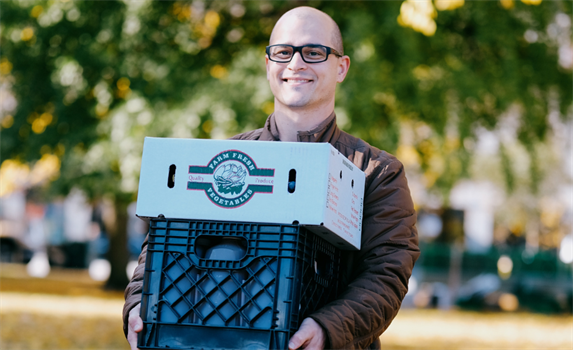 Green City Market was born out of Chicago's culinary community. Famed food writer and Green City Market founder, Abby Mandel worked together with chefs Sarah Stegner, Rick Bayless, and many others to catalyze the culinary community's support of local food.
Did you know the vast majority of local food sales in the US come from wholesale opportunities like sales to restaurants? While most farms do depend on direct-to-consumer sales at farmers' markets, business-to-business sales often hold the key to stability and success.
Green City Market believes the culinary community — executive chefs, bartenders, pastry chefs, sous chefs, culinary students, and more — is central to uplifting local, sustainable farmers. We are dedicated to serving as a conduit between farmers and the culinary community.
---
We spoke with Brian Motyka, Executive Chef of Longman & Eagle, about why he sources his menus from local farmers and the role Green City Market plays in his relationships to local, seasonal food and the people who grow it.
GCM: You were the most regular chef at Green City Market this season! When did you first start coming to Green City Market and why?
The first time that I came to the Green City Market was in 2013 when I was working at Vie [with Paul Virant, former GCM Board member]. We did a team visit to the market and I've been hooked ever since. I had my first local Klug Farm peach that day and it set the standard for peaches I'll have for the rest of my life!
GCM: Why do you prioritize sourcing ingredients from local farmers and food producers? How does that impact the menus you create?
I prioritize sourcing ingredients from the local farmers and food producers because I believe that it's important to know where your food is coming from and who is growing it. Everything will always taste better when it's in season and from a local farm. I write our menus at Longman and Eagle with a 100% focus on seasonality while also pickling and preserving these items so that we can use it over the winter months as well.
GCM: What do you think are some of the biggest barriers to local sourcing for restaurants?
I think that one of the biggest barriers that affects local sourcing for restaurants is that not every restaurant has a menu that focuses on seasonal produce. Another factor can possibly be availability of certain products. One week it's there and the next week it's possible that it's done for the season. For me, part of the fun of creating a menu is using those items at their peak and using them in many different ways before we say bye until next year.
---
Green City Market's Culinary Connections program encompasses an array of activities including culinary demos, behind-the-scenes tours, vendor introductions, and industry events geared to deepen relationships between Chicago's food and beverage industry and local farmers aimed at breaking down these barriers.
Our biggest event of the year, Chef BBQ, is a great example of how our culinary community comes together to support our local farmers and celebrate the flavors of the Midwest.
Did you know we also offer a Culinary Tasting program at each GCM Avondale market? This is a great way to get to know our local vendors and get inspiration for new recipes (plus it's tasty!) Be sure to stop by GCM Avondale this season to take part in this awesome program.