Posted Nov 18, 2021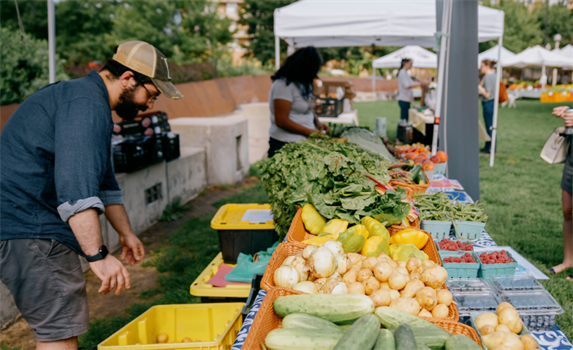 Saturday, November 20 is the final outdoor market of the season — but that doesn't mean our 52 farmers and food producers are closing up shop until springtime.
Au contraire. There are quite literally hundreds (!) of seasonal, local, sustainably-produced products available all winter long. Think storage crops like apples, root veggies, cabbages, and onions, produce that can be grown indoors like microgreens and mushrooms, things like meat, cheeses, grains, breads, and pastries that are available year-round, and shelf-stable items like heirloom tomato soup, ghee, hot sauces, pestos, soups, kimchi, and so, so much more.
Though Green City Market will not be operating our Indoor Market in the Peggy Notebaert Nature Museum this winter 2021-22 season, you can still support your favorite farmers' market vendors all winter long.
Many of Green City Market's vendors have products available for home delivery and curbside pick-up via WhatsGood, where you can choose from hundreds of seasonal, sustainably-sourced products from dozens of farmers and food producers from Illinois, Indiana, Wisconsin, and Michigan in one simple transaction.
Home delivery is available every Wednesday and Saturday. Starting December 1, curbside pick-up will be offered every Wednesday from 4:30 to 7:30 p.m. at Swedish Hospital at the Galter Medical Pavilion (5140 N California Ave).
You can also order directly from our vendors through their own online stores or support local farms by signing up for a CSA. However you prefer to shop, check out our guide to shopping local this winter. We'll keep this guide updated throughout the season.
Where to shop This winter