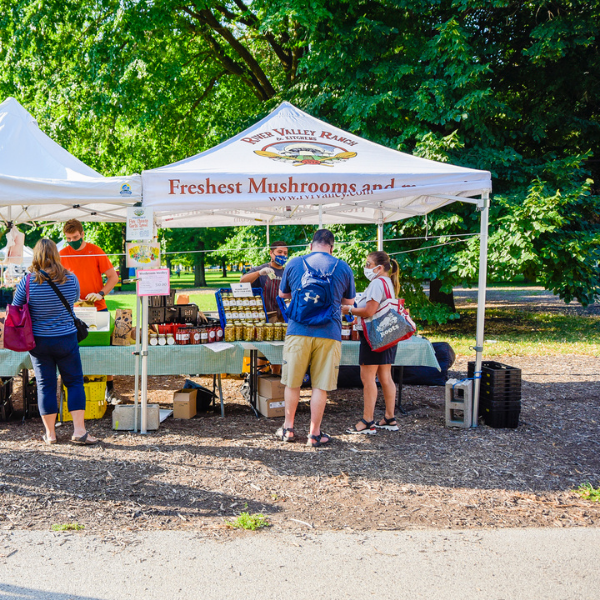 Contact Info
Eric Rose
39900 60th St.
Burlington, WI 53105
262 539-3555
Bio
River Valley Ranch is the oldest mushroom farm in the Midwest. Bill Rose founded it in 1976 with a sizable goal: he wanted to produce the finest fresh mushrooms for the local market. Son, Eric (pictured), joined the operation in 1977 and learned the art of growing mushrooms commercially from his dad. River Valley Ranch still produces fine fresh mushrooms, and also grows other produce, including twenty varieties of heirloom tomatoes, ten varieties of potatoes, a dozen types of peppers, ten varieties of onions, asparagus, spinach, Winter squash and more. All crops are grown without pesticides or chemicals.
Since 1997, River Valley Kitchens, the farm's licensed processing kitchen, has produced pickled mushrooms, salsa, hot sauces, pasta sauces, frozen, gluten free and vegan tamales and veggie patties, vegan soups. All processed foods are made in small batches and hand packed in the on-farm kitchens. River Valley also operates a farm-to-table café, in Chicago, River Valley Farmers Table. River Valley Ranch is an original member of Green City Market. The farm's motto is "quality, freshness, and lots of love."
Wholesaling
Please email wholesale.rvr@gmail.com to place a wholesale order.
---
Specialties
mushrooms, sauces, tamales, soups
---
Participating Markets
Lincoln Park
West Loop
---
Certifications
USDA Certified Organic
---
Nutrition Assistance Programs
SFMNP
SNAP
WIC
---