Posted Jun 17, 2020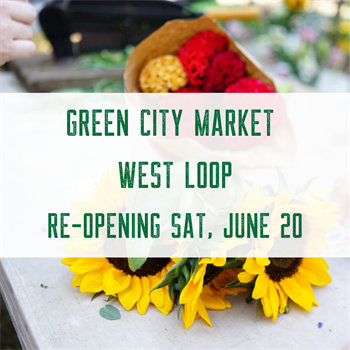 Green City Market West Loop will re-open on Saturday, June 20 from 8 a.m. to 1 p.m. in Mary Bartelme Park, 115 S. Sangamon St, Chicago, Illinois 60607. View upcoming GCM West Loop markets here.
While we are incredibly excited to welcome you back to the market, our primary concern is for everyone's health and safety. We need you to do your part while supporting our local, sustainable farmers!

All of us here at Green City Market, including our vendors, will be responsible for implementing the agreed upon plans to keep everyone safe while we help feed our city. The highest priority is everyone's ability to practice and enforce social distancing and ensure 100% compliance by GCM staff, volunteers, vendors, and shoppers on all fronts. Our permit is contingent upon all of us working together to abide by the safety precautions and procedures we have submitted to the city.
Safe Shopper Guidelines
Farmers markets serve as the essential link between producers and consumers ⁠— growers and eaters. This weekend, we need you to help protect public health and our community by following new guidelines.
Click here to view Safe Shopper Guidelines.
---
Market hours
8:00am-9:00am – Vulnerable Populations Priority Shopping Hour

Market opens for vulnerable populations: seniors, pregnant women, and those at elevated risk for Covid-19

9:00am-1:00 pm – General Public Shopping
---
GCM for All
Green City Market's Link-matching program returns
Green City Market is happy to announce we will resume our Link matching program at our outdoor market reopenings.
Use your Link card at Green City Market and receive extra purchasing power to spend with our local farmers! Green City strives to enhance access to fresh, healthy, locally-grown food to all members of our community. We match the value of Link benefits dollar-for-dollar (up to $15 per card, per market day) to spend at the market. If you use your Link card at Green City Market, you get $30 to spend for using just $15 of benefits.

By making benefit dollars go farther, Green City Market's double value program encourages Link beneficiaries to frequent the market and support a local food system.

To participate in our Link matching program, simply stop by the info booth when you arrive at the market and a team member will assist you.