Posted Jun 09, 2020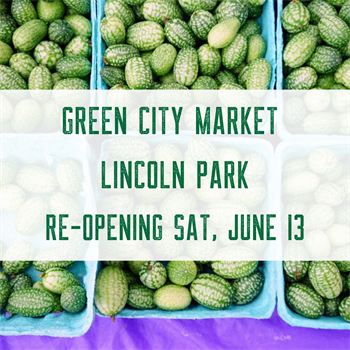 We've got exciting news! Green City Market will re-open on Saturday, June 13 from 7 a.m. to 1 p.m. in Lincoln Park! GCM Lincoln Park will be open on Saturdays only for the remainder of June. We will provide an update about our schedule for the remainder of the summer in the coming weeks.
Do you shop GCM in the West Loop? Never fear! We'll return to Mary Bartelme Park on Saturday, June 20 from 8 a.m. to 1 p.m.
Prefer home deliveries? We've still got you covered on Wednesdays (and pick up will continue to be available at Band of Bohemia on Wednesdays, too).
While we are incredibly excited to welcome you back to the market, our primary concern is for everyone's health and safety. Below, we've provided information to help you plan an enjoyable, efficient, and safe trip to Green City Market. From Safe Shopper Guidelines to GCM Pick Up pre-orders, we're sharing everything you need to know to help us celebrate the start of our outdoor market season.
Farmers markets serve as the essential link between producers and consumers ⁠— growers and eaters. As Green City Market opens for its 21st season, we thank you for your incredible, continued support and for being a #GCMLocalFoodLover!
---
Safe Shopper Guidelines
For everyone's health and safety, our farmers markets will look a little different at first.
Choose 1-2 healthy people per household to shop. Shoppers must be Covid-19 symptom-free.
Everyone who comes to shop the market in person must wear a mask or a face covering.
Please maintain 6 feet distance between yourself and others throughout our one-way shopping experience. Look for social distancing markers — white flags staked into the ground to help guide you.
No pets will be allowed (except for service animals)within the market until further notice.
Do not touch any products; vendors will select items for you. Only vendors will be permitted to touch product.
View the full set of safe shopper guidelines here. Before your visit, please carefully review our safe shopper guidelines to plan a safe and efficient trip to Green City Market.
---
Pre-ordering available + highly encouraged at Lincoln Park market
As part of our safe shopper guidelines, we highly encourage shoppers to pre-order via our app powered by WhatsGood and select location: GCM Pick Up @ GCM Lincoln Park to move more quickly through the market. Your products will be ready for you at the booths of each farmer you ordered from.

Because we are required to limit the number of people shopping the market at one time, wait times to enter/shop the market, especially for our first few markets, may be longer than expected and that the market shopping experience will not be what we are all used to.

Do your part and pre-order prior to Saturday to help as many of your fellow Chicagoans as possible be able to safely access the market this weekend! The deadline to place your pre-order is Thursday, June 11 at noon.

*Please note, we want to be clear that while pre-orders are strongly encouraged, they are not required.
**Please also note that the re-opening of Green City Market's Lincoln Park market means that we will be shifting our home delivery and pick-up program at Band of Bohemia to Wednesdays only.
---
Vulnerable populations to shop first hour
The market will open early from 7-8 a.m. to serve vulnerable populations first. Seniors, pregnant women, and those at elevated risk for Covid-19 will be allowed into the market during the first hour each market day.
---
GCM for All
Green City Market's Link-matching program returns
Green City Market is happy to announce we will resume our Link matching program at our outdoor market reopenings.
Use your Link card at Green City Market and receive extra purchasing power to spend with our local farmers! Green City strives to enhance access to fresh, healthy, locally-grown food to all members of our community. We match the value of Link benefits dollar-for-dollar (up to $15 per card, per market day) to spend at the market. If you use your Link card at Green City Market, you get $30 to spend for using just $15 of benefits.

By making benefit dollars go farther, Green City Market's double value program encourages Link beneficiaries to frequent the market and support a local food system.

To participate in our Link matching program, simply stop by the info booth when you arrive at the market and a team member will assist you.