Posted May 08, 2020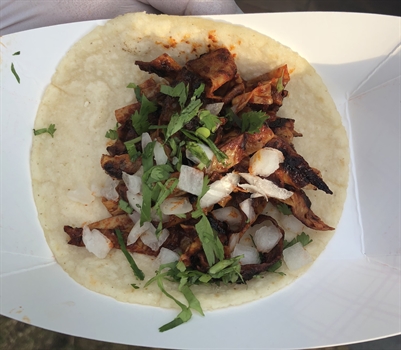 What better way to enjoy a fun, nutritious dinner than with tacos?! This week's newsletter will focus on the building-block components of making this tasty dish, giving you options for a variety of different fillings, spice blends, and side dishes to go with your taco feast. We've even included extra credit — making your own tortillas! Watch our knife skills videos to learn exactly how to dice and mince your pantry ingredients to save yourself time and energy during prep time.

Remember that we are always on call for any questions you may have — simply email us at askthechef@greencitymarket.org or direct message us or comment on Facebook, Instagram, and Twitter. Be sure to share photos of your taco party and tag Green City Market on social!
Eat well. Stay nourished!


-Lisa Kalabokis and Krisitina Navarro, Green City Market Chef Educators
Featured cooking method of the week: Sauté
Now that we've practiced reading recipes, let's start diving into cooking methods! Cooking methods outline exactly which techniques and skills we should use in the preparation of food. Today we will be discussing how to sauté. The culinary definition of sauté (which in French means to "jump up") is to cook food quickly in a little bit of hot fat (like oil or butter).

Using a shallow pan is also key in achieving a true sauté. If your pan's sides are too high, you run the risk of steaming your food instead of browning it quickly, which gave way to the birth of the sauté pan, one of the most common pieces of equipment in the kitchen.
Recipe building blocks: Dicing + mincing
You may think you know how to dice an onion or mince a clove of garlic, but when the chips are down, do you find yourself with a shred of onion here and a hunk of garlic there? Lisa's tutorials will help you up your skills and decrease the amount of prep time you spend in the kitchen — rescuing that 30-minute meal from 1 hour+ prep time territory.
Watch | Edible Ed @ Home: Small Dice an Onion
Watch | Edible Ed @ Home: Mince Garlic
Taco filling ideas + market shopping list:
Get the recipes:
The main event: Tofu chorizo
On the side: Pinto bean salad
Toppings: Simple tomato salsa
Extra credit: Corn tortillas from scratch!
Pro tip about working with peppers:
The recipes featured this week incorporate different chili peppers to really amp up the flavor of your dishes. Be mindful when working with these peppers, as their veins (the white, pithy portion of the pepper that the seeds are attached to) contain capsaicin, an active component of all chilis that can be irritating to our skin and eyes if we touch them. Because the seeds are attached to these veins, they too can carry a fair bit of heat when added to dishes and when touched.
Be sure to wear disposable gloves while cutting chilis. If you don't have gloves, wash your hands thoroughly with warm, soapy water for at least 20 seconds to help remove the capsaicin from your hands. Avoid touching your eyes at all for safety.
Want to raise your hand? Email us at askthechef@greencitymarket.org!