Posted Feb 16, 2023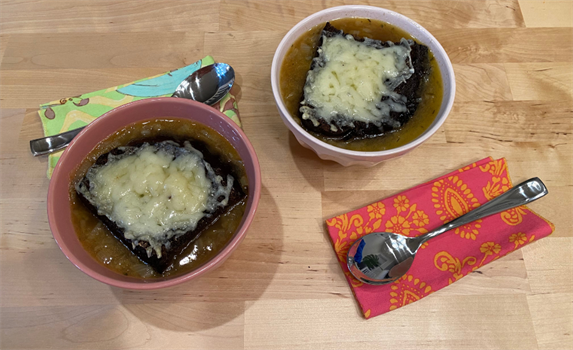 When the weather is cold, sometimes all you want to do is make a delicious soup or bake some homemade bread. If you're looking for inspiration, we have you covered.
GCM Associate Board Member and frequent market volunteer, Alicia Johnston shared a delicious recipe for French Onion Soup sourced primarily from Green City Market.
Grace Novacek, GCM Programs Manager of Food Access, also shared a delightful recipe for homemade focaccia using market ingredients that they made a couple weeks ago.
Keep reading to get all the details.
---
Alicia's French Onion Soup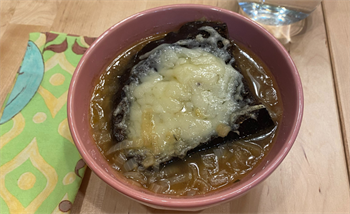 Alicia made French Onion Soup following a recipe from Smitten Kitchen. This is a perfect dish for a cold winter night.
The recipe calls for the following ingredients:
3 pounds thinly sliced yellow onions

3 tablespoons unsalted butter

Fine sea salt

1/4 cup dry sherry, vermouth, or white wine (optional)

2 quarts (8 cups) beef, chicken, or vegetable (mushroom is excellent here) stock

Freshly ground black pepper

1 garlic clove

One (3/4- to 1-inch) thick slice of bread for each bowl of soup

1/4 cup grated gruyere, comte, or a mix of gruyere and parmesan per toast
Check out the full recipe with instructions, tips, and tricks on Smitten Kitchen.
When Alicia shared this recipe, she said, "Caramelized onions are the bomb dot com and the star of this frugal winter recipe. This took a couple hours but the rich flavor was so worth it."
Wondering what she sourced from GCM Avondale? Alicia told us, "I used onions from Jacobson, broth made with Mint Creek beef bones and black rye bread from Dorothy's."
These vendors can be found at GCM Avondale at our next market on March 4.
p.s. Mint Creek Farm, where Alicia sourced the beef bones from, needs climate relief to sustain their business. Learn more about their story and how to support them here.
Next up, we have Grace's mini focaccia.
Grace's Mini Focaccia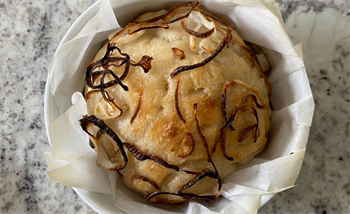 Shoppers at GCM Avondale can find focaccia from our vendors, but if you're looking to make your own, this is a great recipe to follow and can be sourced primarily at the market.
Did you know that focaccia is made combining flour and oil? This differs from a traditional sourdough loaf that is made with flour and water. Check out this piece to learn more about the difference between the two, and other baked goods you can find at GCM Avondale.
Here's how to make Grace's mini focaccia:
Ingredients:
80g flour

64g water

16g sourdough starter

salt

olive oil

shallots

garlic
Instructions:
Mix flour water & starter and let sit for 30 min

Add salt and oil, knead a bit

Put dough in ramekin and let ferment overnight, folding dough 2x in the first few hours

add toppings (shallots + garlic) and bake for 20 min @ 410F
From this recipe, Grace sourced the flour from Severson Organic Grains, the shallots from Tomato Mountain, and the garlic from Kankakee Valley Homestead.
Be sure to stop by GCM Avondale on March 4 to pick up the ingredients for these essential recipes. If you give either of these recipes a go, tag @greencitymarket on Instagram.
Have your own GCM Creation you'd like to submit to our blog & newsletter? Email caroline@greencitymarket.org with the recipes and photos.