Posted May 01, 2020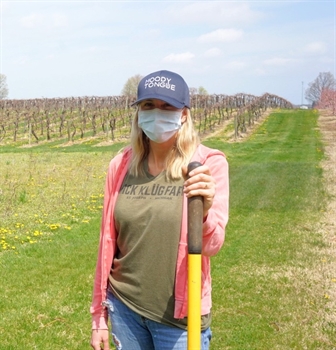 This is Abby. She owns Mick Klug Farm in St. Joseph, Michigan with her family. Abby's family has tended to Mick Klug Farm and fed the Midwest sustainable, local produce for three generations. Her family is the reason we have sweet strawberries and juicy peaches all summer long.
GCM Delivered — Green City Market's new virtual marketplace providing an e-commerce channel to 26 local growers — gives Abby access to 5,000+ customers. GCM Delivered is a lifeline for Abby's farm while farmers markets and restaurants alike — her two primary sales channels — have been forced to close as a result of shelter-in-place orders.
Despite this overwhelming demand for locally-grown food safely delivered and the success of this program thus far, Green City Market currently only has the capacity to deliver 250 orders per week. Our farmers typically see seven to ten thousand shoppers every Saturday in Lincoln Park. Green City Market and our farmers have no way of knowing when we'll be able to reach this volume of shoppers in person again.
We're stepping up to make sure that this isn't Abby's last season.
You can help us help Abby and dozens of local farmers reach more customers. Our small but mighty team is working to rapidly scale this program to accommodate more orders and give our farmers a fighting chance at surviving this season.
Read the full interview to learn just how local, sustainable farmers are being impacted by the COVID-19 pandemic.
GCM: What do you want people to know about how farmers and the food supply chain is being impacted by COVID-19? What would people might not think about or realize about farming right now?
"I think that the main issue is that there's a huge demand for locally-grown produce right now, as there should be, because it is the safest produce you can buy as well as the highest quality. However, the problem lies in the logistics of getting it to the people. Green City Market has worked tirelessly to do this, and we're so appreciative — we need that system to grow by 100 fold in order to meet the demand."
"Many of us [farmers], in addition to working with GCM's new home delivery program, have also put things in place in house to try to get customers products… I think what's important for people to understand is that getting food to people is like a completely additional business, essentially. You need trucks, you need drivers, you need more people to pack and pre-pack the orders — it takes more infrastructure and capacity and labor than what we're currently capable of. We're trying our best to adapt and produce more, but then there's the hiccup of, 'No, we don't want to add anyone new into the bubble right now.' It's not just as easy as throwing it on the truck and driving to the customer's house — a lot more logistics go into that."
"I think it's important for people to realize that we're still farming, and that takes a tremendous amount of time and hard work — on top of trying to get it to you, we're also growing it. We're not just pulling the asparagus off the shelf; we have to grow the asparagus, tend to the asparagus, pick the asparagus — we're doing all of that and, and then on top of that, we're trying to figure out how to meet the demand for that asparagus. That's why farmers markets being open is so important because that's what logistically makes the most sense for us — so we're able to concentrate on farming, and then all we need to do is get it to that one location for people to have access to it."
"Without that access to farmers markets, we're now trying to figure out how to logistically get it to the people to meet the demand. This is really challenging because the majority of us are small family farms — we don't have a marketing person on staff, we don't have a logistics person on staff — it's family members and a few employees and that's it. That's really been the most challenging part, the logistics of meeting the demand. On top of that, there's all of the safety guidelines in regard to COVID-19 — factor that in as well."
GCM: What actions can people take right now to support local, sustainable agriculture right now?
"Many vendors rely on the farmers market as our sole source of income. We are feeding our families from selling our product at farmers markets. It's not a hobby; it's our livelihood."
"We want to ensure that Green City Market and all our vendors are there next year, and in future years. Your donations will go to help farmers find new sales outlets — it's a reality that [farmers] are just working to survive another year. There's a real chance that this could put vendors out of business. I think sometimes we take for granted that the farmers market is always going to be there. This is a huge wake up call. This is all the more reason to support a local, sustainable food system... We have to move towards a more local food system, and I think Green City Market is at the forefront of that, and always has been."
GCM: What has your experience been with the new GCM Delivered program?
"Any sales opportunity is worth it — no sales opportunity is too small. GCM Delivered is keeping us as vendors relevant in people's minds. Maybe [GCM Delivered] doesn't hold a candle to the sales that I would normally experience at the market, what it is doing is keeping local farmers as an option."
"I think we should all work together to try to grow [GCM Delivered] and have it more accessible to more people. We had to start somewhere, right? We started small, and we can continue to grow it. I urge people to think hard about where their food is coming from, especially now."
---
Abby shared her story with us in recognition of #GivingTuesdayNow — a global day of giving and unity that will take place on May 5, 2020 as an emergency response to the unprecedented need caused by COVID-19.
Over the past month, the Green City Market team has been hard at work to provide a lifeline to our farmers while our physical markets are temporarily closed, innovating a brand-new home delivery platform, providing educational resources and enrichment to engage students and families at home, and working with community partners identify opportunities to reach Green City Market shoppers who rely on Link and our donor-funded Link matching program to purchase nutritious whole foods for themselves and their loved ones.
Save the date for this global day of action on May 5! Ready to take action now? Our giving page is open and accepting early gifts.Chip in at www.greencitymarket.org/support — every little bit helps our local food economy survive and thrive!
You can support Abby and all our local growers by ordering through GCM Delivered or by placing orders directly with farmers for convenient delivery and pick-up all over the Chicago area.