Posted May 01, 2020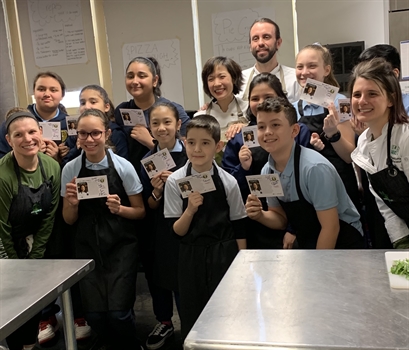 Schools have been closed for nearly seven weeks now, and the remainder of the school year has been cancelled. Our Edible Education students are hunkered down at home, with no way of knowing when they'll be back in the classroom.
Green City Market is typically in Chicago's classrooms Monday through Friday, all school year long, teaching the next generation of eaters what we like to call "modern-day home ec" — practical, hands-on culinary skills with a focus on positive habits like knife safety and composting, helping students understand how what they eat, cook, and throw away impacts the future of our city (and our planet). We reach over 500 students in the course of a school year with in-depth, semester-long instruction taught by our in-house experts Head Chef Educator, Lisa Kalabokis and Sous Chef Educator, Kristina Navarro.
While we have no way of knowing when we'll be able to be able to teach in person again, the Green City Market education team is responding with innovation and creativity to make sure our community is engaged and nourished at home.
Read the full interview from Green City Market's Head Chef Educator, Lisa Kalabokis, on why home cooking skills and creating connections over food is more important now than ever before.
GCM: How has the GCM education team adapted since schools have closed?
"Our goal for Edible Ed is to meet our students where they are. We try to teach them basic cooking skills — we truly believe you can cook in your kitchen with just a few tools and with any ingredients you have. Our goal is to be as inclusive as possible — you can cook anything at any age as long as you have a couple of skills in your toolbelt."
"We are very committed to having hands-on work because we feel that's the best way to reach our students, both for instructional purposes and camaraderie. However, because we are unable to meet in person right now, we are adapting as best we can through just really trying to hammer home that point of, 'Hey, you really don't need to have a full commercial kitchen to cook your food.' You also don't necessarily need to have a bunch of fancy ingredients to nourish yourself. What we've been doing is creating interactive activities and videos so it feels as if we are in the classroom with you."
"Right now people are dealing with what they have in their pantries or they're trying to save their pennies. We want to emphasize that we can still have really fun nights, we can still have family time and eat really well, but we can still learn how to cook properly without being in the classroom."
"With Edible Ed at Home, we're trying to give people an opportunity to be together. Right now, we're together a lot with the people in our households — and maybe not in the way that we want to be — but if we're going into the kitchen and smelling spices or creating a recipe together, it really creates an environment of collaboration and excitement because you're doing something with an end goal. I always tell my students, what better motivation at the end of the lesson than knowing that you get to eat what you just made?"
GCM: Do you think the meaning or importance behind Edible Education has changed at all now that students and families are at home?
"If anything, our current circumstances are making it even more important to learn how to cook properly. If you don't have a grater, you can use a spoon to peel your ginger. If you don't have a mandolin, we can teach you how to slice something properly with a knife and some basic skills. We don't all have access to the stuff that we all may want right now, but that resourcefulness is the bedrock of what GCM is trying to teach in the classroom."
"Now is the time that our students are really putting that resourcefulness into practice. You don't need anything fancy — you don't necessarily even need to have a plan when you come into the kitchen — all you really need is a toolbox of skills that can be applied to a plethora of different ingredients."
GCM: What are the skills or mindsets that GCM teaches in our Edible Education classroom that you think have an impact on students' lives right now?
"There are tons of knife cuts that we can teach students, but the ones we focus on are the 'non-chic' ones — we're trying to take the pretension out of cooking. You may see us repeating a lot of knife cuts: dices and slices and minces and chiffonades... As an everyday person who's trying to get dinner on the table, if I can get these four or five different knife cuts down, it's going to serve me well over the course of my lifetime."
"Cooking is a skill, and all you need to get better is practice. As I always tell our students, if you're not following the recipe to a T, and you 'mess up,' it's probably still going to taste good! I encourage those 'mistakes' to happen so that A, you can taste the difference when you try it next time, and B, also understand that sure, you made a mistake, but it still tastes really good, so it doesn't matter at the end of the day. What matters is you know where you went off course, and you can work through those skills that the recipe called for so you know for the next time. Making a 'mistake' in cooking never means you have to dump the whole thing; you can always pivot and allow for creativity — a beautiful accident!"
GCM: What do you hope students and families gain from Edible Education at Home?
"I just hope people continue to cook! For some people cooking is a chore, for others it's cathartic — what I hope to really encourage our students to think about is, maybe you think of something really simple and work together as a family, and by the time you're done you've created something that didn't take very long but still tastes very good."
"I want people to remember during really hard times, times when we feel like there's no hope, the fifteen minutes spent around the dinner table — or maybe even if it's just by yourself — to sit and eat something really good could be the highlight of your day, and there's always something good that can come from having eaten a meal."
"Through cooking and eating food, you're directly impacting farmers. Eating is not a single-tiered transaction. By eating and cooking that food, you're directly supporting a family that's possibly worked on that farm for generations, and that has a ripple effect. That really is the epitome of community, and the epitome of why we eat. Food is always based in community."
---
Lisa shared her story with us in recognition of #GivingTuesdayNow — a global day of giving and unity that will take place on May 5, 2020 as an emergency response to the unprecedented need caused by COVID-19.
Over the past month, the Green City Market team has been hard at work to provide a lifeline to our farmers while our physical markets are temporarily closed, innovating a brand-new home delivery platform, providing educational resources and enrichment to engage students and families at home, and working with community partners identify opportunities to reach Green City Market shoppers who rely on Link and our donor-funded Link matching program to purchase nutritious whole foods for themselves and their loved ones.
Save the date for this global day of action on May 5! Ready to take action now? Our giving page is open and accepting early gifts.Chip in at www.greencitymarket.org/support — every little bit helps our local food economy survive and thrive!