Posted Feb 28, 2022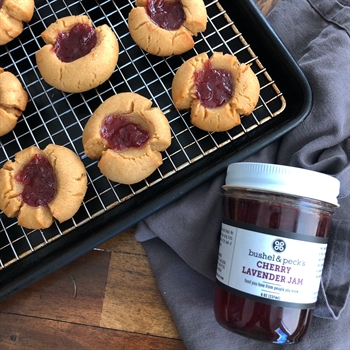 By Kristina Navarro, Program Coordinator
In the heart of winter, I love filling my home with the aromas of freshly baked goods. There is something so cozy about the smell of sugar, butter, and flour marrying together in the oven. I took some inspiration from my son's favorite sandwich and put a twist on the classic shortbread thumbprint cookie. These Peanut Butter and Preserves Thumbprint Cookies are soft and salty and the preserves add a fun texture and flavor.
Ingredients:
1 1/4 cups all-purpose flour (sourced from Severson Organic Grains)

1/2 teaspoon baking soda

8 tablespoons unsalted butter, softened to room temperature (or sub Gai Ghee Butter)

1/2 cup packed brown sugar

1/4 cup granulated sugar

1 large egg, at room temperature (sourced from Finn's Ranch)

3/4 cup peanut butter

1 teaspoon pure vanilla extract

Preserve of your choice for filling (I used Cherry Lavender from Bushel & Peck's, but any of their preserves would be delicious!)
Directions:
In a bowl, whisk the flour, baking soda, and salt until well combined and set aside.

In a separate bowl, cream together the butter, brown sugar, and granulated sugar. Add the egg and beat on high speed until combined. Scrape down the sides and add the peanut butter and vanilla. Beat until combined.

Slowly add the dry ingredients to the bowl and mix on low until combined. Cover and chill the dough for 1 hour in the refrigerator.

Remove dough from the refrigerator and roll into balls. Use your thumb to press an indent into the center of each ball. Place on a lined baking sheet about 2 inches apart and chill for 2 hours before baking.

Preheat oven to 350°F. While the oven is heating, remove cookies from the refrigerator and scoop jam into each indent.

Bake for 15 minutes. Cool for a few minutes on the baking sheet before transferring to a wire rack to cool completely.
How to source your Ingredients Locally:
Many of Green City Market's vendors have products available for home delivery and curbside pick-up via WhatsGood, where you can choose from hundreds of seasonal, sustainably-sourced products from dozens of farmers and food producers from Illinois, Indiana, Wisconsin, and Michigan in one simple transaction.
Home delivery is available every Wednesday and Saturday. Starting December 1, curbside pick-up will be offered every Wednesday from 4:30 to 7:30 p.m. at Swedish Hospital at the Galter Medical Pavilion (5140 N California Ave).
You can also order directly from our vendors through their own online stores or support local farms by signing up for a CSA. However you prefer to shop, check out our guide to shopping local this winter.