Posted Nov 04, 2020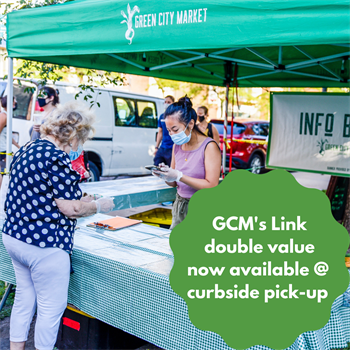 We've got more exciting developments in GCM Delivered this week — customers can now pay with an Illinois Link card and redeem GCM's Link match with Green City Market's curbside pick-up program!

Increasing access to local, sustainably-grown food is one of the pillars of our nonprofit mission; that's why we welcome and match Link dollar-for-dollar up to $15 per market day.

In response to the pandemic, the GCM team has also been hard at work developing new ways for all Chicagoans to safely access fresh, sustainably-grown food from our farmers, including home delivery, curbside pick-up and socially-distant shopping at our outdoor farmers' markets, which have now been extended through November 21.

While the USDA has yet to authorize farmers' markets to process Link (a.k.a SNAP or EBT) online, we're getting creative and launching a new way for customers to participate in GCM's Link matching program and pre-order online for safe and convenient curbside pick-up.

If you or someone you know has Link, learn more about how Green City Market welcomes and matches Link up to $15 both at our farmers markets and now at our curbside pick-up points.