Posted Sep 23, 2021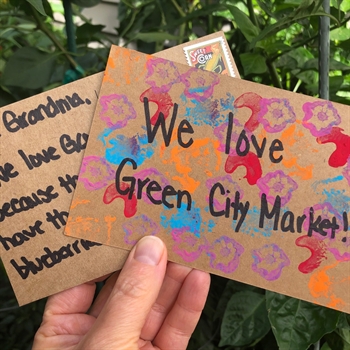 Activity Overview
This week at Club Sprouts, we will be making postcards using vegetable scraps as stamps. Who says you can't play with your food? We will have blank postcards for you to decorate using the odds and ends of fresh produce. Not only will you get to create a unique piece of artwork, but you will also get a chance to see how many beautiful shapes and patterns are present on your dinner plate each night.
Take your card home and mail it to a friend or family member letting them know how much you love Green City Market! You can also mail your card directly to your favorite farmer to thank them for all of the hard work they did this summer to bring such delicious food to the market each week. Visit our vendors page to find each farmer's mailing addresses!
If you love this activity and want to use your own veggie scraps at home, download the template below. Simply print these blank postcards on thick cardstock and you can create your own farm fresh artwork!
Recipe & Question of the Week
This week's recipe for Pearsauce turns a traditional after school snack on its head. It's made exactly like applesauce, but uses pears as the star ingredient. Like apples, pears come in many different shapes, textures, and colors. You can make this recipe with a single pear variety or mix a bunch of different varieties together. Come by the Club Sprouts tent this weekend to taste some pears and grab the recipe. Then, as you shop for ingredients, visit the farmers below and ask, "How many pears does one tree produce?"
Join Club Sprouts
Club Sprouts is geared towards kids ages 4-11 and joining free! Visit the Club Sprouts tent every Wednesday and Saturday at GCM Lincoln Park and every Saturday at GCM West Loop, or click here to get all the details for becoming an official member.