Posted Oct 21, 2021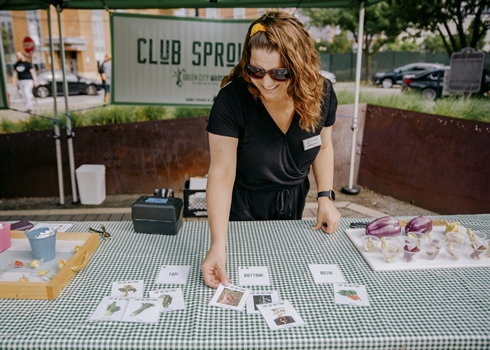 Activity Overview
We have a few fun activities lined up as we approach the end of the 2021 outdoor market season. Check out all of the details below to help you plan your visit to the market and enjoy the last few weeks of the season.
Saturday, October 23 - Thank a Farmer!
Green City Market farmers are dedicated to bringing you fresh, delicious food each week at the market. This weekend is your chance to show them some love and thank them for all of their hard work! We will have craft supplies and construction paper at Club Sprouts for you to design a Thank You note for your favorite farmer. We're sure they will appreciate any kind words you have for them!
Wednesday, October 27 - Challah Braiding Class with Urban Challah
Join Brocha Benhiyoun from Urban Challah for a drop-in challah braiding class at Lincoln Park. Stop by the Club Sprouts tent anytime between 8:30 a.m. and 12:30 p.m. for a chance to braid your own bread. Take your braided dough home and bake it to fill your house with the delectable smell of freshly baked bread.
market extension dates & Recipes
We're happy to announce that there are now three extra weeks of outdoor market season, which means there are three more weeks of Club Sprouts! November markets will be on Saturdays only from 8 a.m. to 1 p.m. the first three Saturdays of the month (November 6, 13 + 20). Swing by the Club Sprouts tent each week to taste a fresh seasonal item, participate in a fun activity, and snag a recipe featuring ingredients from our local farmers and vendors. Until then, click the link below to download all of the recipes we have handed out this market season.
Join Club Sprouts
Club Sprouts is geared towards kids ages 4-11 and joining free! Visit the Club Sprouts tent every Wednesday and Saturday at GCM Lincoln Park and every Saturday at GCM West Loop, or click here to get all the details for becoming an official member.