Posted Oct 13, 2021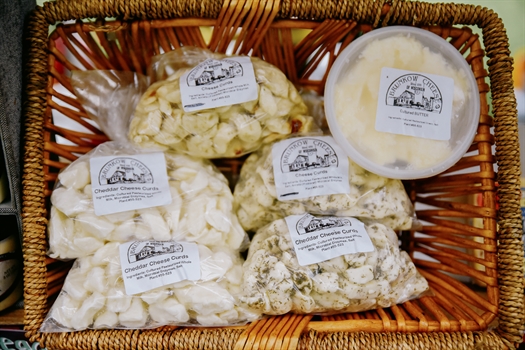 Activity Overview
Calling all seasonal food enthusiasts! This week at Club Sprouts, you will be able to decorate your own Green City Market cookbook cover. After you have created your masterpiece, click the links below to download all of the recipes we have handed out this market season. Once you've assembled your cookbook, you will be able to cook up fun seasonal recipes year after year.
We will also be tasting cheese curds! Cheese curds have a mild cheddar flavor and can be eaten plain or seasoned with olive oil and spices. You can fry them up or add them to a pasta salad, pair them with apples, or just pop them into your mouth one by one until the whole box is gone! As the old adage states, "There's no wrong way to eat cheese curds."
Recipe & Question of the Week
This week's recipe is for Cheese Curd Antipasto Skewers. Is there anything better than food on a stick? We think not! Cheese curds are mild and slightly salty, which makes them the perfect ingredient to pair with cured meat. As you shop for ingredients, visit one of these farmers at the market and ask, "What is the difference between cheese and cheese curds?"
Join Club Sprouts
Club Sprouts is geared towards kids ages 4-11 and joining free! Visit the Club Sprouts tent every Wednesday and Saturday at GCM Lincoln Park and every Saturday at GCM West Loop, or click here to get all the details for becoming an official member.
Photo courtesy of Tess Graham Photography