Posted Sep 08, 2021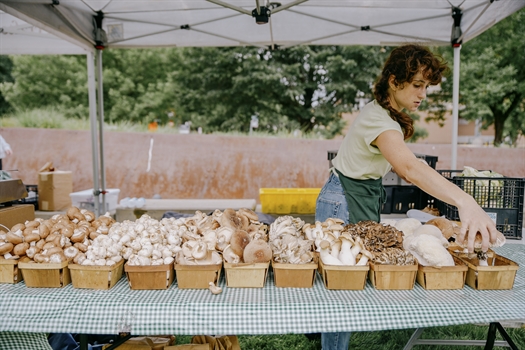 Activity Overview
What kind of room has no windows or doors? A mushroom!
All jokes aside, we're exploring these little fungi at Club Sprouts this weekend. Kids will learn about the 8 varieties of mushrooms that are available at the market by playing a Mushroom Matching game.
For over 40 years, River Valley Ranch has been providing customers with tasty, fresh mushrooms year-round. Their mushrooms are planted on a 14-day cycle and grown in pasteurized compost, which allows them to be regularly harvested at the peak of freshness.
After you have completed the activity and become a mushroom expert, you'll be able to taste a garlic and dill pickled mushroom. See if you can guess which variety of mushroom it is!
Recipe & Question of the Week
This week's recipe is for Quick Refrigerator Pickles. Pickling is a way of preserving food by soaking it in vinegar and spices. Pickling is a great thing to do at home because you can customize your pickles to your liking. Do you enjoy spicy food? Add a hot pepper. Do you prefer a sweeter pickle? Add sugar or honey. Don't care for dill? Try oregano or rosemary instead!
While you are shopping for ingredients, swing by River Valley Ranch and check out all of the pickled products they have to offer. Then, ask your mushroom farmer, "Do mushrooms need sunlight to grow?" This answer may turn everything you think you know about plants upside down!
Join Club sprouts
Club Sprouts is geared towards kids ages 4-11 and joining free! Visit the Club Sprouts tent every Wednesday and Saturday at GCM Lincoln Park and every Saturday at GCM West Loop, or click here to get all the details for becoming an official member.