Posted Sep 15, 2021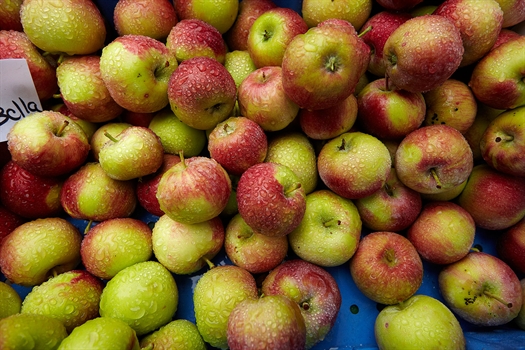 Activity Overview
This season you can expect to see over 50 different varieties of apples show up at the market. Some varieties, like Gala or Honeycrisp, may be familiar to you, but we'd love to encourage you to taste an unfamiliar variety and discover your new favorite apple! Did you know that the Hidden Rose apple is pink on the inside? Or, that the Sunrise apple has a slight pear flavor? With so many varieties available, choosing a favorite may be tough, but we're here to help!
This week at Club Sprouts, we will be sampling three different apple varieties and graphing the results of our taste test. Whether you like your apples sweet or tart, we're sure you'll be able to find your go-to apple variety at the market. Because new varieties are constantly arriving at the market as the season progresses, this is a great activity to do at home. Download the blank apple graph and conduct your own taste test with new varieties each week.
Recipe & Question of the Week
This week's recipe for a Kohrabi and Apple Slaw is the perfect mix of fall flavors. Pile it on top of a sandwich in place of a traditional coleslaw or serve it as a side for a twist on a dinner salad. As you shop for ingredients, visit one of these farmers at the market and ask, "Which variety of apple is your favorite and why?" It will be fun to see if you and your farmer have the same taste in apples!
Join Club Sprouts
Club Sprouts is geared towards kids ages 4-11 and joining free! Visit the Club Sprouts tent every Wednesday and Saturday at GCM Lincoln Park and every Saturday at GCM West Loop, or click here to get all the details for becoming an official member.