Posted May 11, 2022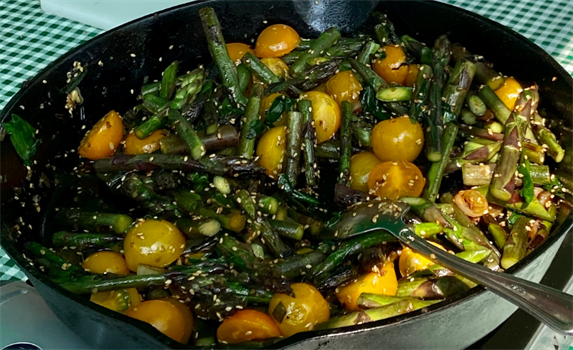 On Wednesday, May 11, GCM was lucky enough to kick off our Culinary Demos program this season with Chef Paul Virant of Vie, Vistro Prime, and Gaijin. Chef Virant joined GCM and demoed his Asparagus stir fry recipe from his West Loop restaurant Gaijin. The recipe featured fresh produce from longtime GCM vendor Mick Klug Farm. Stop by the Lincoln Park market this Saturday to shop the ingredient list and be sure to tag @greencitymarket in your takes on Chef's recipe.
ingredients
5oz asparagus, washed & cut long bias
1 tablespoon sesame oil
1 teaspoon minced garlic or 2 tablespoons chopped green garlic
2 teaspoons soy sauce
1 teaspoon toasted sesame seeds
2 tablespoons fried shallots
Salt
directions
preheat a large sauté pan
add the sesame oil and the asparagus, roast hot for one minute
add garlic, roast another minute
finish with soy sauce, season and turn off the heat
plate & garnish with sesame seeds and shallots
serve
GCM Shopping List
ASPARAGUS
Ellis Family Farms
Frillman Farms
Iron Creek Organic Farm
Mick Klüg Farm
Nichols Farm & Orchard
GARLIC
GREEN GARLIC
Froggy Meadow Farm
Jacobson Family Farms
Kankakee Valley Homestead
Nichols Farm & Orchard
Star Farm Chicago
SHALLOTS
Interested in leading your own culinary demo this season? Complete our interest form here.