Posted Jan 17, 2023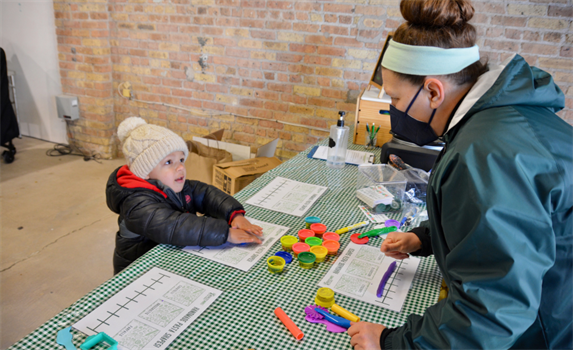 Did you know that the color of an egg depends on the ear lobe of the chicken? Or that there are over 450 varieties of lavender? Or that it's the seasoning that makes a sausage a sausage and not the shape? These are exactly the type of things that you learn at Club Sprouts, our at-market youth program.
At Green City Market, education is one of our core mission pillars. We're passionate about educating our community about who grows their food, how it's grown, and why this knowledge matters. Our educational programs help Chicagoans of all ages understand that what they eat, cook, and throw away impacts the future of our city and our planet.
While we offer educational programs for Chicagoans of all ages, Club Sprouts is geared towards local food loving youth. Although food is a common topic in early childhood education, curriculum tends to focus on what to eat rather than teaching children basic factual information about where food comes from.
At Club Sprouts, we aim to teach children about how farmers grow the food they eat. From sustainability to seasonality, our Club Sprouters enjoy engaging activities and seasonal tastings with the goal of building a love of local, sustainable food early in life.
Each week, GCM Programs Coordinator Kristina Navarro, former long-time classroom teacher, leads our Club Sprouts kiddos in activities centered around the local food system. These activities range from rolling your own pasta shapes to making seed bombs. Sometimes they even get to guess which type of meat shown below is a sausage (hint: it's all of them!)
In addition to a weekly activity, kids enjoy a tasting as well. In the past our kiddos have gotten to try different varieties of apples and vote on their favorite. They've also tasted handmade pasta from Daisies, soup from Tomato Bliss, cheese curds and goat cheese from J2K Capraio, Microgreens from American Pride Microfarm, and that's just to name a few.
Not only are these tastings a great way for our kiddos to try new things and learn about local food, but it also gives them the chance to get to know the farmer that grows their food.
"This summer, I started printing photos of the farmers who were featured during that day's tasting. I had multiple vendors say how much they enjoyed it when the kids would call them by name," says Kristina Navarro. "During our outdoor market season, I featured 84% of our farmers/vendors at our Lincoln Park Market and 88% of our farmers/vendors at our West Loop market. Club Sprouts is a great way for kids to experience all the market has to offer, develop a relationship with local farmers, and discover a new favorite food!"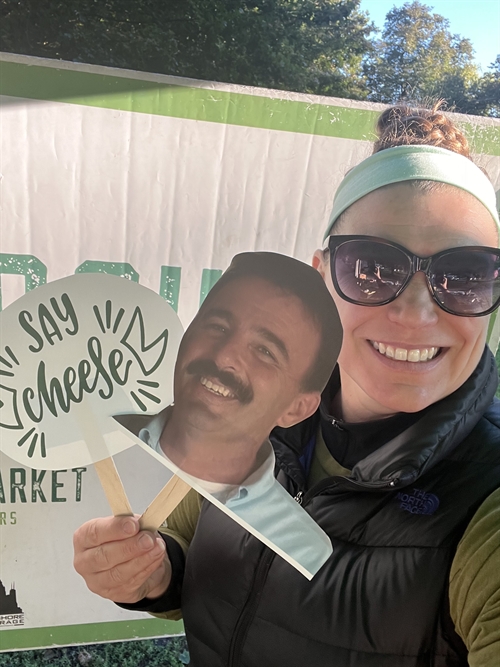 One of the most special things about shopping at a farmers' market is developing a relationship with the people that grow your food and we love making sure our mini market shoppers get to experience this too.
Beyond just the activity and tasting, one of the unique aspects of Club Sprouts is that after completing the activity and tasting, each participant is awarded a one-dollar voucher to spend at the market. This program furthers the relationship between the kids and the farmers, and helps give kids more purchasing power at the market.
Throughout the season, it's enjoyable to see how the kids choose to spend their money. Some kids spend it the day they get it and others save up throughout the season. Later in the season, two of our Club Sprouters pooled their coins together and bought flowers for their babysitter from The Flower Garden. One of our Club Sprouters saved up his coins all season and bought his Mom a Raclette sandwich from Baked Cheese Haus. It's very impactful to see how our kids choose to spend their coins when it's completely up to them.
We also track the spending to see which vendors our kiddos are visiting most often. The first ever Club Sprouts coin was spent at J2K Capraio at GCM West Loop. As for which vendor received the most coins at the end of each month? Dorothy's Bistro, Nichols Farm & Orchard, Seedling Farm, No Name Kettle Corn, Jacobson Family Farms, and pHlour Bakery all made appearances, but Bennison's Bakery was by far the favorite among kiddos. Bennison's was the top monthly earner of Club Sprouts coins three times at GCM Lincoln Park and four times at GCM West Loop.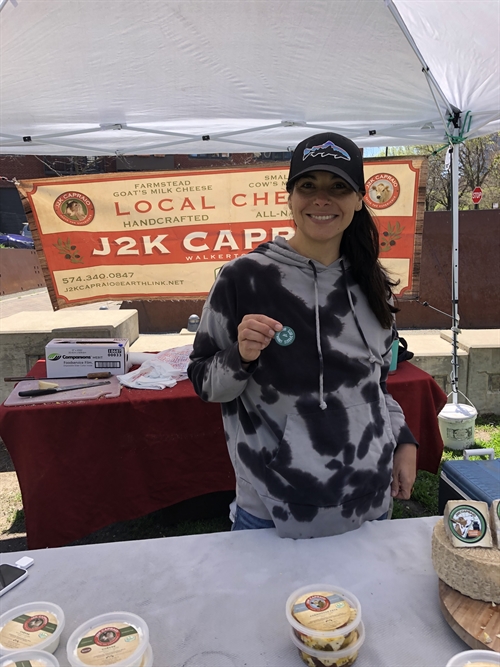 One of the best parts of Club Sprouts is getting to see our friends multiple times throughout the season. Of the 29 Saturday Lincoln Park markets we had in 2022, one of our Club Sprouters came a total of 21 times.
Club Sprouts programming is available from 8 a.m. - 12 p.m. at every market. Be sure to stop by the Club Sprouts table next time you visit the market.
Interested in volunteering with Club Sprouts? Learn more here.