Posted Nov 13, 2019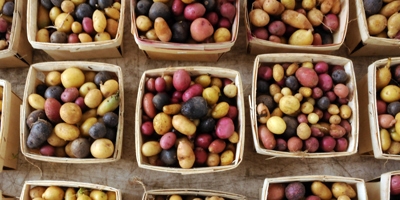 We love Thanksgiving. It's objectively the most food-centric American holiday, and we're grateful for that. Whether you've been scrolling through Epicurious and working on your Thanksgiving mood board since August or you just recently accepted that it's fully Parka Season in Chicago, we've got your Thanksgiving bases covered.
You can find everything on your Thanksgiving shopping list right at Green City Market! Wow your guests and feel even better about your menu by shopping from Green City Market's 30+ local, sustainability-certified Indoor Market vendors. Better yet, avoid the grocery store mayhem and make your Thanksgiving shopping experience 1,000% more pleasant by shopping the Indoor Market at the Peggy Notebaert Nature Museum on Saturdays from 8 am to 1 pm.
There are only two more Saturdays, November 16 and 23, to shop the market before the big day, so grab an apple cider donut and get ready to transform your Thanksgiving shopping experience for good.
Visit our homepage to view a complete chart of what's in season in November and available at Green City Market.
Fruit
Apples:

For pie, stuffing, and appetizers.

Freshly frozen blueberries: Frozen at the peak of the 2019 summer season for muffins, desserts, and the inevitable post-Turkey Trot pancakes.
Veggies
Potatoes:

However you like 'em: mashed, roasted, or baked.

Beets and winter squash aplenty: For your supreme roasted root veggie mix.
Brussels sprouts: Roasted, and perhaps topped with some crumbled bacon (see below).
Greens: Swiss chard, winter kale for soups and sides; microgreens, lettuce, and arugula for salads.
Mushrooms: For the best-ever green bean casserole (and other sides and entrees, if you're the kind of person who eats

anything

other than The Casserole).

Fresh herbs: Garnish alllll your dishes (and cocktails!) with a tumble of fresh herbs for some extra fresh flair.
Nuts + Grains
Bread: For top-notch stuffing or to tide over your guests who may be approaching hangry.

Pecans: For pie, stuffing, or a crunchy topping to side dishes and salads.

Cornbread mix: Quality Organic has three different quick-and-easy cornbread mixes – regular, popcorn, and heirloom – for all your cornbread and cornbread stuffing needs! They also carry cornmeal and flour separately for those who like to make it on their own.
Chestnuts:

Roasted on an open fire (or just toasted on a sheet pan in the oven) for an extra-seasonal treat, or chopped in a nutty stuffing.
Meats + cheeses
For the main event, see our guide to turkeys and other main-dish meats (and meat alternatives) at the market.
Bacon:

Feel great about topping your sides with nitrate-free organic bacon from our local farmers.

Cheese and charcuterie: A cheese and charcuterie board will make your pre-meal spread extra amazing (and tide over you and your guests, buying

you

some extra cooking time).
Ready-made
Pies and pastries:

Drover's Trail Natural Farms:

Featuring pumpkin pie sourced from Smits Farms and apple pie sourced from Ellis Family Farms. All of Drover's Trail Natural Farms pies crusts are made with rendered tallow and organic, locally-sourced lard. They also have pumpkin muffins, pumpkin bars, apple muffins, and apple streusel cream cheese coffee cake

to make your post-Thanksgiving breakfast plans that much easier.

Assorted tarts, croissants, muffins, and pastries from Verzenay Patisserie, all made with locally- and sustainably-sourced ingredients.

Whole-roasted jarred tomatoes and heirloom tomato soup:

Tomato Mountain's whole-roasted jarred tomatoes will make your sauces, soups, and stews

sing

(we mean it).

Tomato Bliss' heirloom tomato soup is a crazy-delicious, ready-made starter to kick off your meal.

Apple cider: Something warm for the kids' table, or spiked in a festive punch.