Posted Jan 28, 2021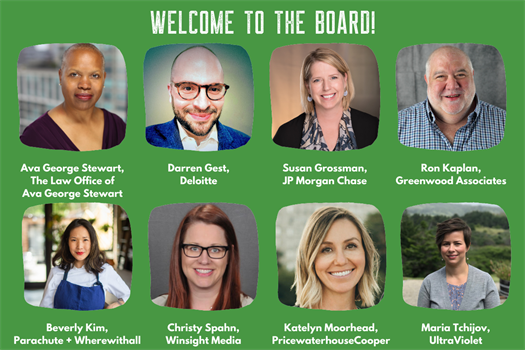 Today we're giving a shoutout to some of the incredible folks working tirelessly behind the scenes to realize Green City Market's mission: our Board of Directors!
Our board includes motivated community members driven to take action in support of GCM's mission — deepening support for small farmers, educating consumers and the next generation of eaters, and increasing access to local, healthy, sustainably-produced food.

In the last nine months, we've welcomed eight new board members to the team — all hungry for food system change and committing their time and talents to creating a more local, more sustainable, and more accessible food system in Chicago.
Check out Green City Market's newest board members below, and learn more about how to apply to become a board member today.
Ava George Stewart
Criminal Defense Attorney + Owner | The Law Office of Ava George Stewart, P.C.
Ava is a criminal defense attorney and owner of The Law Office of Ava George Stewart, P.C. in Chicago, Illinois. She has been a fan of the Green City Market for almost twenty years.
Prior to becoming an attorney, she gained over ten years of management experience as Executive Director at several not-for-profit organizations, with a focus on homeless and disenfranchised women and children throughout Chicagoland. In addition to managing her law firm, Ava also teaches Appellate Advocacy at The UIC John Marshall Law School.
Ava enjoys spending time with her husband of eighteen years, Alistair George Stewart and their dog. You can often find them exploring the outdoors, fly fishing, and baking bread. In her spare time, Ava is a Master Gardener and enjoys canning-preserving homegrown fruit and pickled vegetables, usually sourced from Green City Market partners.
Darren Gest
Principal | Deloitte Consulting
Darren is a Principal at Deloitte Consulting where he has spent the past 15+ years serving clients across the Food and Beverage, Retail, Consumer Products and Agriculture sectors. In this role, he routinely advises Boards, C-Suites and executive teams on how to solve their most complex and pressing human capital issues.
As a Green City Market Board Member, Darren is energized to strengthen farmer/consumer/restaurant partnerships and advance how food is sourced, accessed, and understood in Chicago. Darren holds a Bachelor of Business Administration (BBA) from The George Washington University and a MBA from Vanderbilt University – Owen Graduate School of Management. He lives in Chicago, IL with his wife Rebecca and their two children (just a few blocks from GCM Lincoln Park!).
Susan Grossman
Executive Director | JP Morgan Chase
Susan is an Executive Director at JP Morgan Chase in the Commercial Bank working in Technology Product Management. Her career started in human resources then pivoted to technology and she has brought her business analysis, program management, and tech leadership skills to multiple industries to include government contracting, publishing, and finance.
A Virginia native, she has been in Chicago for 12 years and is energized by the neighborhoods, history, and food in the city. Susan lives in North Center with her husband, two kids, and rescue pup.
Ron Kaplan
President and CEO | Greenwood Associates, Inc.
An enthusiastic patron of the culinary arts, when Ron isn't cooking, dining out, writing about food or photographing it, he's busy supplying ingredients to the food industry. Since 1995, he's been President of Greenwood Associates, a Niles, IL-based manufacturer and wholesaler that specializes in 100% natural, custom-packed and processed fruit and vegetable products.
Ron is currently a member of the Bread Bakers Guild of America and the International Association of Culinary Professionals, and is a certified Kansas City Barbecue Society judge. He spends most of his time in Logan Square with his wife and son.
Beverly Kim
Chef + Owner | Parachute + Wherewithall
Beverly is a chef, entrepreneur, mother, teacher, volunteer, and one half of the wife-and-husband team behind two of Chicago's most acclaimed restaurants. She is the co-owner and chef of Parachute, the Korean American restaurant awarded a one-star rating from the Michelin Guide, as well as her newest restaurant, Wherewithall. Her cooking has been praised by the likes of Chicago Tribune, Eater, and Bon Appetit. Kim and husband Johnny Clark shared the 2019 James Beard Award for Best Chef: Great Lakes. They live in Chicago with their three sons.
Katelyn Moorhead
Advisory Director, Private Company Services | PricewaterhouseCoopers
Katelyn is a Director in PwC's Private Client Services - Advisory practice, based out of Chicago. She has spent over ten years in a variety of roles across audit, marketing & sales and operations consulting. Katelyn has experience in procurement maturity assessments, strategic sourcing of direct and indirect categories, from strategy through execution.
Katelyn graduated from San Diego State University with a BS in Accounting. She is a Certified Public Accountant (CPA) and Certified Supply Chain Professional (CSCP).
Chrisy Spahn
Senior Vice President of Sales | Winsight Media
Christy is the Senior Vice President of Sales for the National Restaurant Association Show. She has spent her career leading teams to generate revenue in both for-profit and non-profit organizations building and convening industries through tradeshows, conventions, conferences, media properties and online platforms.
In her current role, Christy is charged with developing sales strategy and leading a team responsible for supplier engagement in the largest annual foodservice show in the Western Hemisphere.
She is a graduate of the University of Colorado, Boulder and a Chicago native currently residing in the West Loop. Her two great passions are culinary and performing arts.
Maria Tchijov
VP of Advocacy + Membership | UltraViolet
Maria is the VP of Advocacy and Membership at UltraViolet, responsible for overseeing the campaigning work of the organization as well as member fundraising and engagement. She comes to UltraViolet with more than a decade of experience at the intersection of advocacy and digital organizing, most recently at MoveOn where she led the user-generated petition platform, engaging with millions of people around the country on issues that they care about.
Prior to her work at MoveOn, Maria worked in both the nonprofit and startup worlds, including organizing with farmers in the Bay Area through her work with Food & Water Watch.
After some time in the Bay Area, Maria has settled back in the Midwest with her wife, twin daughters, overly protective black lab, and soon a corgi puppy as well. When not working, she enjoys cooking for large groups of people and attempting to garden.