Posted Sep 24, 2020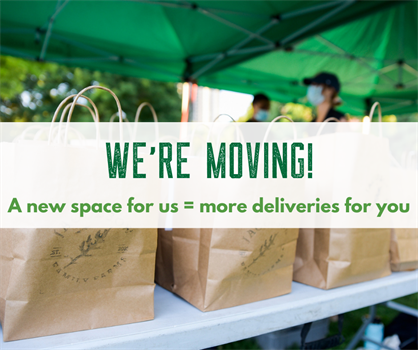 GCM Delivered — our new online ordering and home delivery platform, designed to keep our farmers connected to shoppers and to provide a safe option for Chicagoans to access the food they need — is growing!

Green City Market is moving our office and aggregation space from our Lincoln Square office, located at 2613 W Lawrence Ave, to a new space in Avondale at the intersection of Roscoe & California.*

Starting on October 7, we will be moving one of our two curbside pick-up locations from our Lincoln Square office to our new space located at Roscoe & California. (We'll share the exact address soon!) The Paramount Group parking lot, located at 1750 W Lake St, will continue to serve as a curbside pick-up location every Wednesday.

Our new digs also means that we have increased capacity for home deliveries! We can't have an office-warming party, but you can help us celebrate the move by ordering now for home delivery or curbside pick-up! And now that there's more delivery slots to go around, share the news with friends and family so they can get their farmers market hookup, delivered.

*Please note: You can continue sending mail to Green City Market at our 2613 W Lawrence Ave address until further notice.