Posted Feb 09, 2023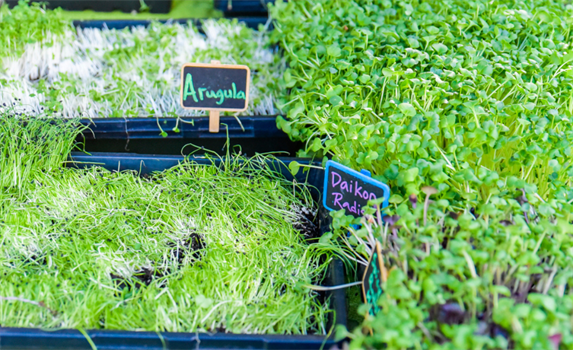 If you're looking for something to spice up your go-to breakfast sandwich or the perfect addition to your smoothies to boost the nutritional value, microgreens may be the thing for you.
For the past few years, microgreens have been a popular topic of conversation in the world of agriculture and nutrition, but a lot of folks don't know what microgreens even are.
Microgreens are often confused with Sprouts but they are actually not the same. In a Health Essentials article, Cleveland Clinic described sprouts as "the germinated seed of a vegetable." Microgreens are a bit different.
To answer the question of what exactly microgreens are, we turned to one of Green City Market's most popular microgreen vendors, Brad Hathaway from American Pride Microfarm. Brad shared that microgreens are simply "7-14 day old sprouted leafy vegetables." So, what does that actually mean? A microgreen is basically a baby plant!
These baby plants, which taste exactly like the seeds they are grown from, come in several different varieties. You can find broccoli, cabbage, arugula, sunflowers, peas, and spicy mustard just to name a few.
If you're wondering why you would choose to eat microgreens instead of the fully grown plant, their nutritional value may be the thing that convinces you. For many people, the thing that stands out most about microgreens is that they are extremely nutrient dense. In fact, Brad shared with us that microgreens can be up to 40 times more nutrient dense than their adult counterparts. He continued on to share, "You're getting pounds of nutrition with just ounces of microgreens!"
Microgreens are a great way to ensure that folks of all ages are getting the nutrition they need on a daily basis. It's easy to fit microgreens into your diet because of how small they are. You can include them in your smoothies, eggs, sandwiches, soups, and so much more. Many folks at Green City Market love to top off their pizza with a variety of microgreens. Women's Health even shared that folks can grind them up in a food processor and include them in baked goods.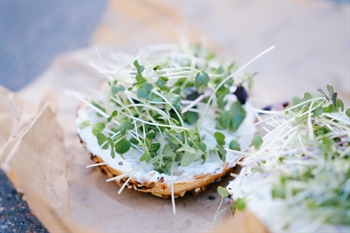 If you're wondering why this even matters, one of the main reasons is that the majority of adults and children are not meeting the daily recommended vegetable intake. According to a study published by the CDC, only 10% of American adults met the daily recommended vegetable intake. The CDC also reported that only 2.0% of adolescents met daily vegetable intake recommendations.
Given these numbers, finding easy ways to introduce vegetables (and their nutrients) into your diet can be extremely important. With the extra nutrients you can get from these baby plants and the ease in which you can incorporate them into your diet, microgreens bring a ton of benefits to all.
In addition to their nutritional value, they are also full of flavor!
One of our favorite Club Sprouts activities at the market is seeing if kiddos can guess the mystery microgreen based solely on its flavor.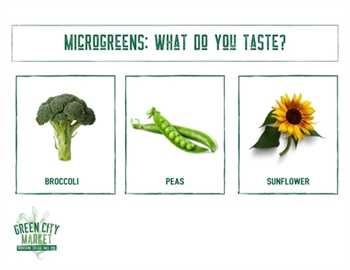 This activity inspired us to put microgreen expert, Brad Hathaway, to the test! Check out this video, to see how Brad did when we asked him to identify the microgreen in a blind taste test.
If you're interested in learning more about microgreens, speaking with Brad and our other microgreen vendors, or picking some up to start incorporating them into your diet, stop by GCM Avondale for our next market on February 18 from 8 a.m. - 1 p.m.
P.S. American Pride Microfarm often sells out quickly so be sure to stop by on the early side!