Posted Nov 22, 2021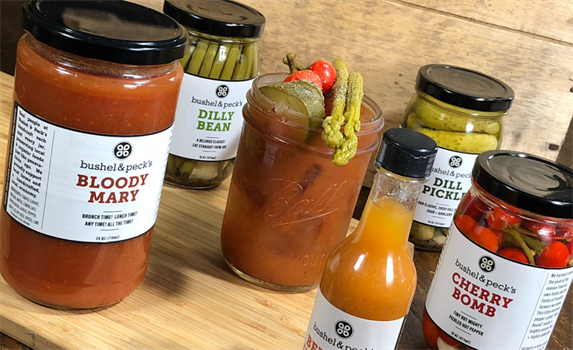 Nothing says "I'm thinking of you" more than food, right? Right. As you commence your holiday shopping or just want to arm your own kitchen with some goodies as winter sets in, consider shopping local this year. (The best gifts might be closer than you think.)
Check out Green City Market's 2021 holiday gift guide — so many of our vendors have special products, gift sets, and more on offer this time of year. Find everything from an extravagant homemade grilled cheese kit to local lavender products to charcuterie, artisan jam sets, and so, so much more.
We'll keep this guide updated throughout the season to help you skip the supply chain woes and keep it local, sustainable, and heartfelt.
Gifts include a bloody mary gift set, hot sauce gift sets including a 12-pack of All the Hot Sauce for the daredevil in your life, a more modest 6-pack and a 3-pack featuring the essential trifecta of Bushel & Peck's sauces. On the sweeter side, they have a choose-your-own jam gift set, featuring classic flavors like raspberry and peach and more adventurous flavors like strawberry habanero.
For the total package, check out their Wisconsin Holiday Sampler — 20% of the proceeds go back to support Green City Market's nonprofit mission.
Who knew blueberries could be so… soothing? Check out Joe's Blues personal maintenance kit, a gift box featuring blueberry soap, body scrub, and lip scrub. They also have jam sets, teas, and more for order on their website.
Ghee is the ultimate pantry staple, so why not treat your loved ones to Gai Ghee Butter's organic, artisan ghee to help spruce up their home cooking setup this winter? Order here.
For the plant person in your life, Star Farm Chicago is offering organically-grown, propagated houseplants in unique, reclaimed pots and containers. Now that's sustainable. Find other goodies like local honey and locally-roasted coffee on their online shop.
This one is for the grilled cheese diehards — for the ones who wouldn't miss a stop at Gayle V's Best Ever Grilled Cheese for the world (we see you), get them a DIY grilled cheese kit. It comes with two sandwiches, ready to be griddled, and a jar of smoked onion marmalade, all wrapped up and ready for the gifting. Find it on GCM Delivered or at their storefront in Block 37 (108 N State Street).
Stop by Cookies & Carnitas' Edgewater storefront (5940 W Broadway) to snag their cookie and coffee holiday gift box, featuring an assortment of their most popular old fashioned cookies nestled with a custom Cookies & Carnitas Blend coffee roasted by Metropolis Coffee Company.
Find local honey, beeswax candles, bath products, gift sets, and more on their online shop.
Did you know lavender can be used to soothe aching muscles and joints, reduce anxiety and stress, and to induce sleep? Sounds like something we all need this time of year — find lavender bath essentials, syrups, teas, bundles, and more from Green Eyed Lady's online store.
Invited to a holiday meal and not sure what to bring? Look no further than Underground Meats' charcuterie boxes featuring small-batch, artisan smoked and cured meats, local cheeses, jams, and nuts. It works great as a host gift or to break open and enjoy before dinner.
Help the coffee person in your life discover one of Chicago's best coffee vendors — it's direct-trade, locally-roasted and a family-owned company. Kikwetu Kenya Coffee Company has gift sets featuring bagged coffee, mugs, and tumblers.
Keep it extra cozy and find gift sets of artisan, real maple syrup for many wintry mornings of pancakes, waffles, and French toast ahead.
For the person who's really missing summer this time of year, get them a little a taste of summer with Tomato Bliss' heirloom tomato gift sets, featuring heirloom tomato soups, salsas, and more.