Posted Apr 19, 2022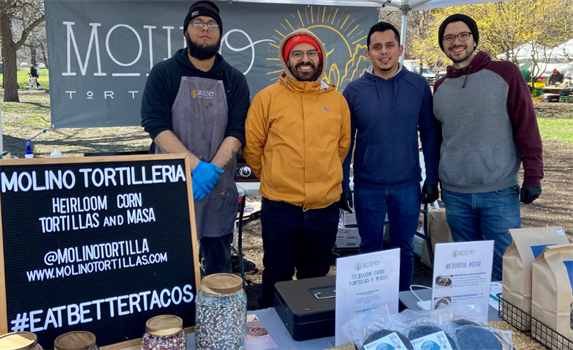 Next up in our series of new vendor spotlights is Molino Tortilleria, a family-owned small business founded in 2019 by husband-and-wife team Aaron and Christie Harris. Molino Tortilleria specializes in heirloom corn tortillas, heirloom corn masa, artisan salsas, and heirloom tortilla chips. Molino Tortilleria joined GCM on opening day and you will be sure to find a line at their tent each week.
Since beginning in 2019, Aaron and Christie have been able to grow their business quite quickly! Aaron shared with Green City Market that, "In the spring of 2019 we began producing heirloom corn tortillas and fresh masa made from local organically grown heirloom corn and debuted at a local farmers market in May 2019. Since then Molino has gone on to open a retail and production facility in MI and just recently moved ourselves and the business back to our hometown of Chicago."
While it is clear they have grown a lot since the start of their business, Aaron shared that they are not done growing yet. "We plan to open a brand new production and retail location in Humboldt Park in summer 2022."
At Green City Market, we carefully consider the work that our vendors are doing and how their individual missions can work together and contribute to our mission as an organization. We are very proud of the work our vendors do, and Molino Tortilleria is no exception to this. Aaron told GCM, "Molino is a tortilleria on a mission to produce the finest tortillas and masa using heirloom varieties of corn organically grown by local farmers. At our core is a mission to preserve agricultural diversity through creating products that highlight their unique individual qualities and support the small family farms working hard to keep these seeds around for future generations."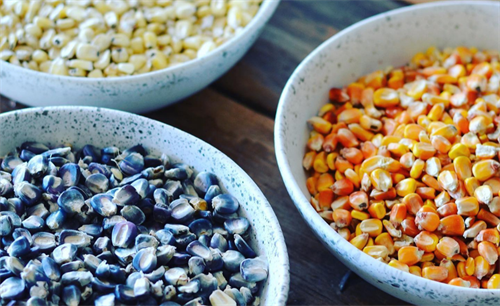 Beyond preserving agricultural diversity and supporting family farms, Molino Tortilleria strives to foster appreciation for traditional foods.
"Most of Molino's corn varieties are landrace and have been hand-bred for generations specifically to create the best tortilla, but sadly, many of these varieties are on the brink of extinction. By showcasing the highest quality heirloom corn and the traditional practices of working with nixtamal masa, we hope to spark new conversations, new passions and new appreciation for traditional foods and the people who lovingly prepare them."
Aside from their heirloom corn tortillas, heirloom corn masa, artisan salsas, and heirloom tortilla chips that they bring to the market each week, Molino Tortilleria will also be featuring hot food. In a partnership with local chef, Jonathan Zaragoza, Molino Tortilleria will be developing their menu that will change throughout the market season to feature locally grown ingredients.
You can find Aaron and the rest of the Molino team at our Lincoln Park market on Saturdays throughout the season.