Posted Mar 22, 2022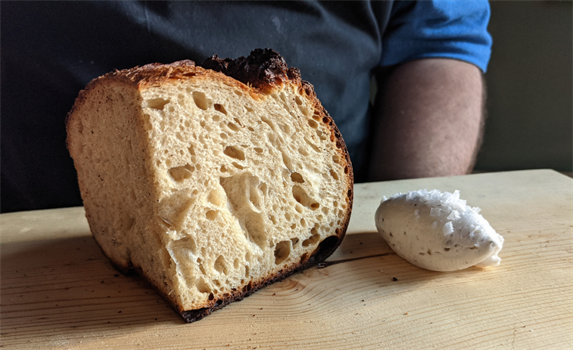 We are thrilled to share that Flat & Point will be joining Green City Market as a vendor at the Lincoln Park location throughout the season. Flat & Point will be bringing a number of great products with them including their rustic sourdough, brioche, bagels, bagel sandwiches, and seasonal pastries.
Flat & Point is owned and operated by husband-and-wife team, Brian and Taylor Bruns. Brian, the Chef of Flat & Point, developed the idea after working in two different Michelin star restaurants. Taylor Bruns, the co-owner and Beverage Director, explained that "Flat & Point merges the love of smoked foods with the inspiration of Alpine flavors to create what we call an Alpine Smokehouse."
Beyond just their creative idea and menu, they are committed to their approach of sourcing local. When discussing the history of Flat & Point, Taylor said, "We take great pride in making our menu from scratch with local, Midwest ingredients."
Since its opening, Flat & Point has expanded beyond just a restaurant. During the pandemic, Taylor and Brian were looking for more creative outlets and, from there, they decided to open a bakery. According to the Brunses, "The Bakery at Flat & Point came to be after years of practicing sourdough bread and a passion for putting care into baked goods."
This bakery has become central to their work and is one of the main reasons they decided to become a vendor at Green City Market. While this may be their first season with the market as a vendor, they are already very familiar with GCM. "We started as a pop-up on the beach, and would start each day at Green City Market selecting produce. We outgrew the beach location, and opened up our first brick and mortar in April 2019."
As the Flat & Point brand has continued to grow, their commitment to the community around them has remained strong.
"Flat & Point's goal since opening has been keeping a focus on our local community. When we had our pop-up on the Fullerton Beach, we would shop at Green City Market, and now with our brick and mortar we work with many local farmers for both produce and meats. We want to feel good about the work we are doing, and keeping a local focus allows us to be more sustainable and add more value to the neighborhood we serve."
Their approach to food and their community has allowed Flat & Point to create a unique product that brings something new to their neighborhood. Taylor told GCM that "We love taking local, Midwest ingredients and turning them into Alpine inspired dishes."
The Bakery at Flat & Point has continued to grow since its inception. The Brunses are committed to their business's progress and using the best techniques and ingredients for their customers.
We are very excited for everyone in the community to meet the team at Flat & Point as they join Green City Market for their first season as vendors. Make sure to stop by the Lincoln Park market to try some of their beautiful sourdough loaves, pastries, and much, much more.