Posted Jul 20, 2020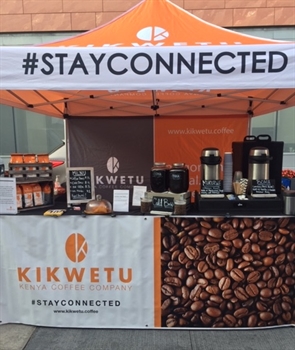 Martha Itulya-Omollo and Leecox Omollo were both raised in Kenya but had different paths to Kikwetu Kenya Coffee Company.
For Martha, the aroma of Kenyan coffeeis very nostalgic. "My parents would take me along on their frequent trips to the localcoffeeshop in Nairobi. They would nibble on mandazi, a version of a Kenyan donut, while sipping on Kenyan coffee," she recalls. "I can still remember sitting at a table eating my mandazi with a glass of passion fruit juice, watching my dad flip through the newspaper with his cup of steaming coffeein his hand. The coffeehouse was always full of people sitting in small groups talking and sharing stories, discussing politics, while in the background, the sound of coffee machines and grinders hummed away."
Leecox did not become a coffee drinker until his second year in college in the US. He learned to conceal its unwelcome taste using lots of sugar and embraced it purely as a stimulant that was necessary to propel him through a rigorous schedule of work and school. That all changed one day when he stopped into a newcoffeeshop in Grand Rapids, Michigan.
Because there was free Wi-Fi and the space was very inviting, he chose to sit down. "About ten minutes later," he recalls, "I was sipping the most flavorful and aromaticcoffee. I finished my first cup and hurried back to the counter for a refill." "Where is this coffee from?" he asked the owner that was busy preparing the next customer's coffee. "Oh, it's from Kenya," came the reply. He was dumbfounded — strangely, leaving Kenya had allowed him to fully appreciate Kenyan coffee.
When Martha and Leecox met in 2004, they were of course delighted to learn of their shared interest in coffee. Together, their explorations of coffee and tea continued. They visited many coffeeshops in many cities, met lots of interesting people and witnessed first-hand the power ofcoffeeto connect people and elevate communities.
Over months as their relationship deepened, so did their plans for a coffee business. As the years flew by, their plans evolved and morphed but refused to go away — Kikwetu Kenya Coffee Company was finally born in 2014, and we couldn't be more thrilled to welcome Kikwetu to Green City Market Lincoln Park this season. Read their story below, and visit Martha and Leecox at GCM Lincoln Park or order from Kikwetu for delivery or curbside pick-up and enjoy a gorgeous cup freshly-roasted, single-origin coffee, made with love in Chicago.
What drew you to becoming a vendor at Green City Market?
"We have been visiting Green City market for many years. We started visiting when we were dating, we got married at the Nature museum right next to it in 2008 and have continued visiting with our kids ever since. For these reasons, the Green City market already had a special place in our lives. When we decided to sell at farmers markets, it was an obvious destination especially after we read about its mission and its focus on supporting small-scale farmers. It's been a wonderful experience so far and we are thrilled to be a part of this market!"
What makes your

coffee

unique?
"We offer exceptional quality from farm to cup. All our beans are specialty-grade, single-origin Kenyan coffee — meaning that every coffee we sell has both the captivating aroma that Kenyan coffee is known for and the distinct flavors that single origin coffees provide. We relentlessly focus on quality and only the best will make it your cup."
"We are a Kenya-born, Chicago-made coffee company. We were born and raised in Kenya but have made our home here in Chicago. We work directly with small-scale farmers in Kenya, sourcing the highest quality beans from Kenya and roasting to order here in Chicago. When you buy Kikwetu coffee, you can be sure that small-scale farmers are getting a fair compensation for their product."
"We are focused on human connections. In a dynamic and fast-paced world, we are on a mission to uncover and foster connections. We are excited to add to the diverse tapestry that makes Chicago special by connecting you to the best that Kenya has to offer, starting with exceptional coffee."
What do you hope people get out of enjoying a cup from

Kikwetu

?
"We hope that they fully experience and delight in the unique flavors and aroma that our coffee is known for. That they get the opportunity to slow down and connect with other human beings as they enjoy it."
How do you both take your

coffee

?
"We both drink our coffee black. Depending on the number of people that we are serving in the house, we use either an electric percolator or a French press. On hot days, we sometimes make cold brews or breakfast smoothies using our medium or medium dark coffee."