Posted Apr 02, 2020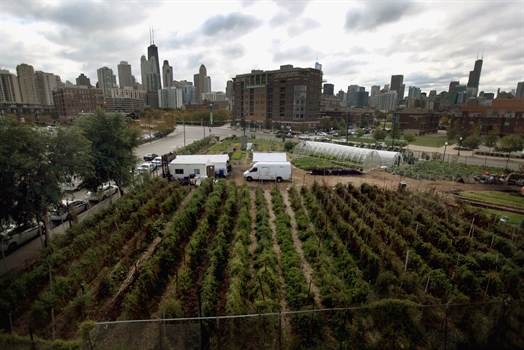 You never realize how important a farmers market is until you're faced with the reality you may not have a market to visit. This holds true for consumers, of course, but even more so for the people behind them: farmers. When there are no markets to set up in or restaurants to deliver to, how do you sell your products?
In places like Los Angeles and San Francisco, markets have continued to welcome guests, albeit with safe distancing in place. But in Illinois, most markets — though deemed essential services during the COVID-19 crisis — find themselves homeless due to the closure of the public parks and buildings that typically host them. Not having access to markets obviously puts a strain on farmers. Crops will grow, trees will bear fruit and animals will need milking and give birth no matter the cultural climate.
"If we lose any of the outdoor season, that becomes huge for the farmers," says Sean Finn, owner of Finn's Steak & Eggs Ranch in Buchanan, Mich., which sells at Green City Market (GCM), Chicago's largest farmers market, among other outlets and also direct to consumers. "If we're not able to do the market, it'll be a huge strain on our ability to get products to the consumer."
To help farmers, the nonprofit Green City Market launched a new app in partnership with WhatsGood on March 27 called Green City Market Delivered. The app functions as a virtual marketplace for local, seasonal purveyors of eggs, produce, meat, fresh cheese and more. At launch, the app featured a small test group of 15 farms — including Finn's, Nichols Farm & Orchard, Mick Klug Farm, Ellis Family Farms, Arize Kombucha and pHlour Bakery — and allows consumers to place collective orders with participating vendors for weekly at-home delivery for a flat rate of $9.99.
The app proved so popular that the first two weeks of orders got filled within 24 hours, according to Melissa Flynn, Green City Market's executive director. "This is make-or-break time for our farmers," Flynn says. "We need to make sure they have a marketplace for them to sell what they're planting now."
Flynn said as things smooth out logistically, more vendors and products will be onboarded. She has also talked to the Chicago Farmers Market Collective to see how more markets can work together to ensure farmers have a place to sell their goods.
"We want to ensure we're helping the entire food system in Chicago and help all the sustainable farmers as we can," Flynn adds.
Read more at InsideHook.com.