Posted Mar 13, 2020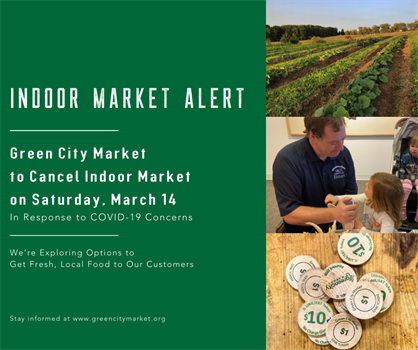 In Response to COVID-19 Concerns
We're Exploring Options to Get Fresh, Local Food to Our Customers

Green City Market's Indoor Market is crucial to the dozens of local family farmers who bring nutritious, sustainably-grown food directly to the people of Chicago and we are working on safe options to continue to bring you that nourishment.
Yesterday evening, Governor Pritzker and Mayor Lightfoot gave an address, noting that all public gatherings of more than 1,000 people are banned in Illinois for the next 30 days.
As such, it is our duty to cancel the Indoor Market on Saturday, March 14 at Peggy Notebaert Nature Museum.
Later today, we will communicate directly with supporters who have made reservations or have purchased tickets for Green City Market events taking place over the next 30 days.
While we do not have all of the answers yet, I want to assure you that our staff, board, and community partners are working around the clock to ensure Green City Market leads the effort to support all those impacted by our mission - especially our farmers, students, and those who rely on Green City Market for access to healthy food.
With your support, Green City Market has been operating through good times and bad for the past 20 years, paving a new path for the local food economy in the Midwest by deepening our support for small family farmers, educating consumers and the next generation of eaters, and increasing access to local, healthy, sustainable food.
In the coming days, we will be in regular touch with you in an effort to keep you informed about how COVID-19 is impacting those touched by our programs, including our markets, education programs, and food access initiatives.
There will be much for us to do to ensure we continue to fulfill our mission and support those who rely on Green City Market for critical support. I am personally grateful for you, our amazing, welcoming, strong community who will continue to support each other and our farmers through these challenging times.
Many thanks for your ongoing support,
Melissa Flynn, Executive Director
For regular updates regarding our markets and nonprofit programs, please visit our website, Facebook, and Instagram. For more information about coronavirus (COVID-19), please visit the World Health Organization, the Centers for Disease Control and Prevention, and the Chicago Public Health Department online.
Please note, the Green City Market administrative office is closed while our small team of staff members work remotely until further notice. To reach a GCM staff member, please email admin@greencitymarket.org.