Posted Jul 28, 2021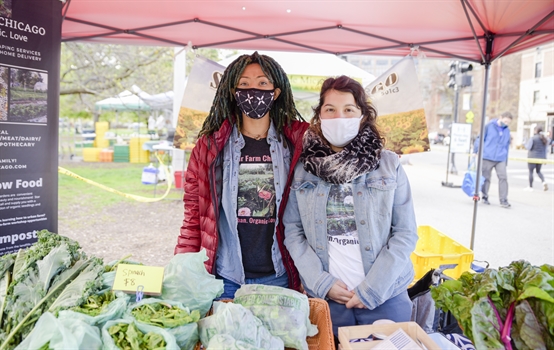 It's not an easy time for local farmers and food businesses — farm bankruptcies continue to rise across the Midwest as climate change and competition from big agriculture threaten small-scale independent farms' survival.
Earlier this year, Green City Market launched its Covid-19 Farmer Relief Fund to underwrite the costs of returning to the market for each and every one of our 52 farmers and food producers. It provided essential operational support in direct response to last year's disruptive, crisis-filled season.
Though Covid-19 continues to wane, we know that our food system is still in crisis. Green City Market is thrilled to announce that our Covid-19 Farmer Relief Fund will continue on as the Farm Forward Fund, providing direct financial support to local, sustainable farmers to build resilient businesses.
Ultimately, the fund seeks to ensure Midwest sustainable farmers and food producers earn a living wage for generations to come.
We're thrilled to announce our 2021 Farm Forward Fund awardees:
Frillman Farms

and

Star Farm Chicago

have both been awarded Market Starter Kits, a $1,000 award for first-time farm vendors to prepare for their first market season with GCM.
Green City Market's Farm Forward Fund is made possible through the generous support of individuals, foundations, and corporations. Learn more about how you can help grow a more sustainable, more resilient food system in Chicago.