Posted May 27, 2021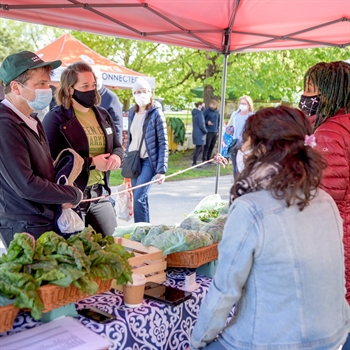 Through this year of unimaginable change, our community helped to create a more accessible, more sustainable, more resilient food system together with Green City Market.

There is more work to be done in 2021, but for now, the entire Green City Market team offers our sincerest gratitude for the incredible impact everyone in our community — donors, volunteers, farmers, board members, shoppers, composters, and more — had on our work in 2020.

We're thrilled to share with our entire community Green City Market's 2020 Impact Report!

We're excited to share data about the impact we made together this last year — like generating over $680,000 in revenue for our local farmers through GCM's delivery and curbside programs when the pandemic shuttered farmers markets citywide, composting over 11,000 pounds of organic waste, and recovering over 6,000 pounds of produce to donate to local food pantries and mutual aid networks.

We invite you to read on and join us in deepening our collective impact in 2021 and beyond — by donating what you can, volunteering, shopping from our local and sustainable farmers and food producers, or composting with us.