Posted Apr 02, 2020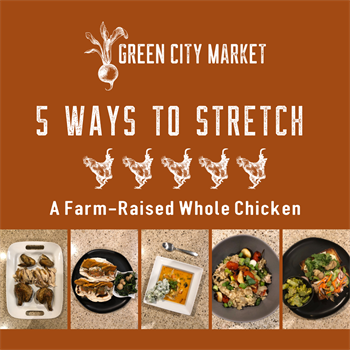 Winner winner, chicken dinners! This recipe series is a real winner indeed — one, local, sustainably-raised chicken = a full week of meals. No meal prep boredom here, we've got five different ways to serve this chicken that uses the whole bird and keeps your home cooking fresh. A simple roast chicken turns into sweet potato chicken tacos, buffalo chicken soup, spring risotto, banh mi, and chicken udon noodle soup.
Read on for our Director of Development, Mandy Moody's suggestions for how to serve up your beautifully-roasted whole chicken. Mandy shares, "As a working mom of two young kids, I love to make simple, from-scratch meals that come together quickly - that's why meal prep is so key to making the most out of your meat! This particular chicken came from my sister's farm in Ohio but Green City Market has several amazing vendors where you can buy incredible protein."
Chicago-area, folks, you can source your local chicken from Finn's Ranch, Avrom Farm, Mint Creek Farm, Kinnikinnick Farm, or Jake's Country Meats and more from our virtual market! We have 30 local farmers and vendors that are offering delivery or pick-up at convenient locations throughout the Chicago area — and a brand-new app where you can order from 15+ of your trusty Green City Market vendors at once for extra convenient home delivery.