Posted May 06, 2021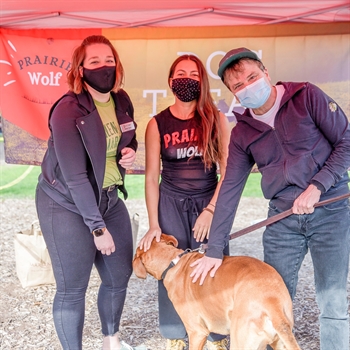 Green City Market is thrilled to welcome several new vendors to our markets this season, including Prairie Wolf, a dog treat vendor using locally-sourced organ meat to encourage the use of the whole animal, preventing food waste and offering a nutritionally-rich, raw treat for dogs.
We chatted with owner Jackie Zureikat about her journey to Green City Market, her relationship to sustainability, and more. Find Prairie Wolf at on Saturdays at GCM Lincoln Park (May through October) and GCM West Loop (June through October).
---
GCM: When did you start Prairie Wolf? What was your inspiration for opening the business?
Jackie: About summer time last year, I had the idea after buying organ meat at a farmers market in Morton Grove. I purchased the meat and was feeding it to the dogs raw at my friends house who wants to become a vet. I had the idea there to turn the organ meat into dehydrated treats after working with a woman who makes dehydrated veggie chips.
Dogs have always been a part of my life. Healthy, nutritious food for people and dogs have also been extremely passionate part of me.
GCM: What attracted you to Green City Market? What do you hope to get out of your experience at Green City Market this season?
Jackie: I've been shopping at farmers markets for well over ten years now. Green City Market naturally was one of the markets I attended, and I was extremely impressed by how powerful it is. Another huge part of [Green City Market] is that it has staff who are aware of the importance of extremely healthy food for pets and people! I appreciate the people working at [Green City Market] because they recognize the importance of healthy, raw pet food.
I feel like this experience will allow me a platform to introduce my product. The market will also let me to make a lot of connections with the staff and farmers.
GCM: What role does sustainability play in your business?
Jackie: Sustainability is probably the biggest reason I do anything. To come out with a product ultimately means I am in charge of packaging — it was extremely important for me to find compostable packaging. Although a small portion of the packaging is plastic right now, I will have an option for consumers to return the bag for a refill. I would also like to come out with a bag that is more durable and able to be refilled by customers who return it.
The tent canopies, folding tables, and plastic tablecloth were all bought used. The large banner that I had custom-made was printed on canvas material. Every step and every detail to the best of my abilities will be as sustainable, compostable, and recyclable as I possibly know how.
GCM: What do you want Chicagoans to know about Prairie Wolf?
Jackie: I would like them to know that raw food for dogs is extremely appropriate for their biology. I would like them to know that dog food all comes from somewhere and very likely continues to financially support a very cruel factory farm industry. I would like people to be able to say which farm their dog treats came from.