Posted Mar 27, 2020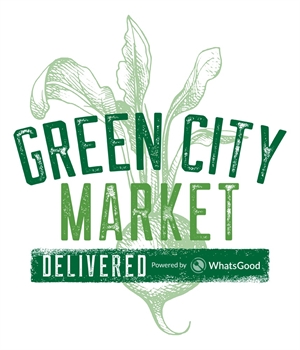 If you thought GCM's Virtual Market was cool, you're in for a treat. The Green City Market team has been hard at work with our vendors and WhatsGood to launch Green City Market Delivered, powered by WhatsGood! We know many of you are concerned about safely getting the food you need right now. We are so happy to share that our new app enables Green City Market to better serve our community by delivering farm-fresh food directly to your doorstep.

You can now browse available product from Green City Market vendors, place an order with multiple vendors in the same transaction, and get your farmers market haul delivered direct to your home for a flat delivery fee of $9.99.

Here's the dirt:
Download now available on the App Store and Google Play or create an account at sourcewhatsgood.com

Select Chicago's Green City Market and pick out your fave seasonal produce, grains, meats, eggs, and more!

Your trusty Green City Market vendors will pick, pack, and deliver your products to our aggregation space on the morning of your delivery day

Home delivery is a flat fee of just $9.99 to get local, sustainably-sourced goods from Michigan, Wisconsin, Indiana, and Illinois delivered direct to your doorstep!

Order by 12:00 pm on Tuesday, March 31 for our first delivery day on Wednesday, April 1

Deliveries will be made from 11 am to 5 pm on Wednesday, April 1

Enjoy your nutritious, farm-fresh food and tag @GreenCityMarket with your dishes on social media!
Continue placing orders each week by 12:00 pm on Tuesdays to receive your home deliveries every Wednesday.

We're excited to offer products from 15+ vendors for our first week with the Green City Market Delivered app! Please check back to view our ever-expanding list of vendors available on the app.
---
How it works
---
FAQ + notes from our team:
What if I want contactless delivery?
You can provide delivery instructions in the app when you place your order. If you wish to receive a contactless delivery drop, please indicate this in the instructions of your order as well as where you would like your delivery driver to leave your package. Drivers will take a photo of where they placed your package and send it to you in the app.If you are feeling ill or exhibiting any symptoms of illness, we ask that you please request a contactless delivery option.
How will I know what time of day my order will arrive on Wednesday?
You may indicate your preferred delivery window in the app when you place your order. If you provide your cell phone number, you can also receive text updates from your driver alerting you of when your delivery is en route and has arrived at your home.
Do I have to be home at the time of the delivery?
Nope! If you happen to be on your fifth walk around the block with the dog and not home at the time of the delivery, your driver will leave your package at the drop-off point you indicated in the app, send you a text alerting you of your package's arrival, and send a photo of where your package was left.
How we're keeping you and your orders safe:
As much as we love reusable bags and containers, we will be using single-use packaging for sanitary reasons. All containers will be recyclable, and deliveries will be packaged in brown paper bags. (Pro tip: if you compost at home or participate in a

home pick-up compost program

, you can compost the paper bags! Healthy Soils Compost is offering

$10 off your first home compost pick-up to GCM shoppers

!)

All equipment and surfaces involved in the aggregation space and in the delivery itself will be routinely disinfected — we're talking hand trucks, tables, counters, freezers, coolers, printers, door handles, car door handles — everything will be meticulously disinfected for your safety and the safety of our team.

All team members and delivery drivers will be wearing gloves, changed regularly throughout the day.

Your food will be handled by a limited number of individuals — farm-fresh food touches so many fewer hands than food purchased at the grocery store, so you can feel great about re-stocking your pantry and fridge directly from our local farmers.

There will be no cash handling under any circumstances. Orders will be pre-paid for via credit card on the app.
Any more questions? Email admin@greencitymarket.org!