Posted Aug 19, 2020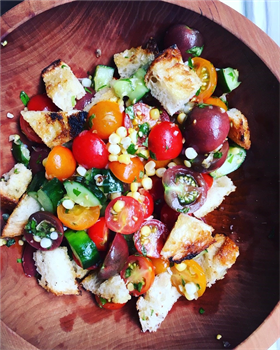 Kathryn Domanchuk Shiels lives in Lincoln Park and is a frequent patron of Green City Market. If you often find yourself in a panic over what to do with your GCM haul, you can follow her on Instagram (@cooktheseasons), where she hopes to ease your farmers market-induced anxieties with suggestions for how to use up your beautiful locally-grown produce.
I love nothing more than schlepping home as much as my arms can carry from GCM (not always an easy feat — particularly when my shopping excursion begins at Nichols with six ears of corn), spreading out my haul, and immediately getting to work on my next meal.
You cannot get a fresher or more flavorful experience, aside from maybe growing your own produce. I struggled to grow herbs this year, so clearly a backyard garden is not in the cards for me. (It was particularly disheartening when I tried and failed to grow dill twice, then went to a friend's house and saw dill growing all over the place. "Wow, how did you do it?" I exclaimed in awe. Turns out they didn't do it — it's a weed. I'm a person who struggles to grow… a weed.)
All this to say, I am so grateful for GCM for providing us often backyard-less city slickers with an unparalleled produce experience. There is no better time than these current treasured weeks of peak summer, with gorgeous produce piled high on the tables of our local GCM farmers. The panzanella salad — a beautiful blend of tomatoes, crispy bread, corn, cucumbers, and herbs — is one of my favorite ways to make the most of the season.
I'm forever in debt to Abra Berens for the introduction to panzanella. Before she published her cookbook Ruffage, she cooked my wedding dinner at her farm in Northern Michigan. She curated the menu and we didn't know what would be served until it the day of the dinner — the panzanella was the star of the show, and I've been throwing these ingredients together from July through September ever since. I hope you'll love it too.
-Kathryn Domanchuk Shiels