Posted Oct 07, 2021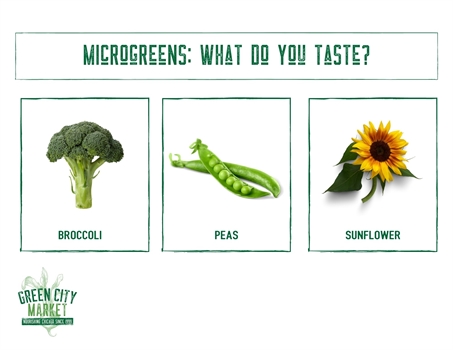 Activity Overview
You've heard the name. You've seen these flats of greens at the market each week. But, what exactly is a microgreen? Simply put, a microgreen is a baby plant! Nestled somewhere between a sprout and a young plant is this delicious little flavor bomb. Microgreens will taste exactly like the seed they are grown from and are packed full of nutrients. You can add them to a salad, pop them into your morning smoothie, or serve them the way we love the most - on top of a pizza!
How well do you know your vegetables? Put your tastebuds to the test this weekend at the Club Sprouts tent. We'll have a mystery microgreen on hand for you to try. See if you can guess which microgreen it is. We'll give you a hint: It's one of the plants in the photo above!
Recipe & Question of the Week
This week's recipe is for a Microgreen pizza! You can use a pre-made pizza crust, but if you are feeling extra ambitious, you can make it from scratch. We love to make a few pounds of pizza dough and store it in the freezer. That way, a fresh and delicious homemade pizza is always at our fingertips! Michael, from American Pride Microfarm at West Loop, says that he loves to add onion microgreens to leftover pizza. He re-heats it in an oven and sprinkles them on top for an extra punch of flavor!
As you shop for ingredients, visit one of these farmers at the market and ask, "Do you grow microgreens year round?" The answer will let you know if this recipe can be made on a snowy day in February!
Download the Pizza Dough Recipe
Join Club Sprouts
Club Sprouts is geared towards kids ages 4-11 and joining free! Visit the Club Sprouts tent every Wednesday and Saturday at GCM Lincoln Park and every Saturday at GCM West Loop, or click here to get all the details for becoming an official member.