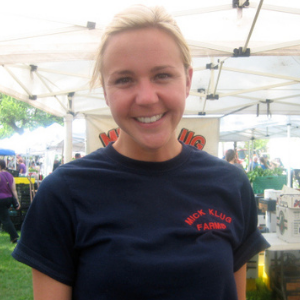 Abby Schilling
Farmer Mick Klug Farm
Bio
Before returning to working on her family farm in 2010, Abby Schilling received her BA in Communications from Michigan State University, worked in sales in Chicago, earned her Masters degree in Social Work from Wayne State University in Detroit and worked as a school social worker in Saint Joseph Michigan.
After meeting her fiancé who also worked for his family's farm, Abby decided to return to her father's farm where she had worked and sold at farmers markets for since she was a child. Her father, Mick Klug, bought his farm from his parents in 1974 over thirty years ago and started attending City of Chicago Farmers Markets.
He then started selling to restaurants and became a vendor at the Green City Market. When Abby came on board full-time, her father, who much prefers the field, gladly handed over the "paperwork" and she took over much the administrative, marketing, and business aspects of the 120-acre farm. Abby now attends the Green City Market every Wednesday and Saturday as a vendor and manages all restaurant and wholesale accounts.
Abby joined the Board of Directors to help facilitate communication between vendors and the Board, believing it important to consider farmers' opinions and suggestions in order for the market to continue to succeed. She currently serves on the Board's Executive Committee as the Secretary.