Posted Sep 16, 2022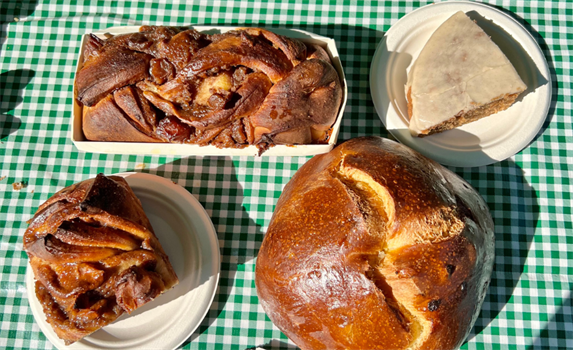 Last week, Sam Zeitlin from Zeitlin's Delicatessen joined us for a culinary demo and shared some of his delicious recipes. Check out the full recipe for his Honey Cake and Apple Walnut Babka below.
---
Honey Cake Recipe
ingredients
Honey Cake
3.5 cups AP Flour
1 tsp Baking Powder
1 tsp Baking Soda
1 tbsp Salt
1 tbsp Cinnamon
1 tsp Pumpkin Spice
1 cup Vegetable Oil
4 eggs
1 cup Honey
1 cup Sugar
1/2 cup Brown Sugar
1 tbsp Vanilla
1 cup Coffee
1 cup Apple Cider
Cider Glaze
1/4 cup Apple Cider
2.5 cup Powdered Sugar
directions
Honey Cake
Preheat oven to 350 degrees.
Mix all dry ingredients together.
While mixer is running on low, beat eggs into wet ingredients. Mix until fully incorporated. Bake for 40 min or until done.
Cider Glaze
In a bowl, slowly whisk in the Apple Cider with the powdered sugar until all incorporated.
Pour over cool Honey Cake.
---
Apple Walnut Babka Recipe
ingredients
Babka Dough
1.5 cup Milk (90 degrees)
2 tbsp Salt
5 Eggs
1/2 cup Sugar
1/2 lb Butter (soft)
2 tbsp Vanilla
2 Egg Yolks
Apple Walnut Sauce
1 qt. Walnuts (toasted)
1 tsp Cinnamon
1/2 cup Honey
1 cup Brown Sugar
1 tbsp Salt
2 tbsp Vanilla
1/2 lb Butter
Roasted Apples
12 Apples
1/2 lb Butter
Salt to taste
Honey Syrup
directions
Babka Dough
Mix milk and instant yeast, allow to bloom for 10 minutes.
Mix eggs, vanilla, and milk mixture in bottom of stand mixer.
Add flour and mix for 3 minutes on low speed until all flour is incorporated.
Add salt, sugar, and butter. Continue to mix for 3 min on low then 3 min on medium speed. Dough should not be totally smooth because of the amount of fat.
Take the dough out of the bowl and let rise covered for 1 hour.
Put in fridge and store overnight.
Next Day - preheat oven to 350 degrees.
Cut dough in half and roll out into a large rectangle. Smear 2 cups of Apple Walnut Sauce over surface.
Cut horizontally and roll into a tight log. Cut that log in half horizontally and braid dough.
Place in greased loaf pan. Let rise for 2 hours.
Bake for 30 minutes. When finished take out and brush with simple syrup.
Roasted Apples
Using half of the butter, melt on high heat. Once browned, saute half your apples until soft. Add salt to your liking.
Once soft, take out and allow to cool. Repeat using remaining butter and apples.
Apple Walnut Sauce
Preheat your over to 350 degrees. Using a sheet tray with parchment, roast walnut for 10 minutes or until golden brown. Allow to cool.
In a small saucepan, brown butter. Add all ingredients except roasted apples inside of blender. Blend until smooth.
Fold in roasted apples to your honey glaze. Chill until ready to use.