Posted May 13, 2021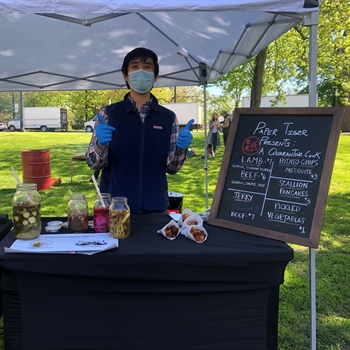 Prepared food is back at Green City Market as of 2021, with old faves like raclette from Baked Cheese Haus, Gayle V's Best Ever Grilled Cheese, bao and lumpia from Noble Fat, and tacos from Cookies & Carnitas returning to the market. New to the lineup this year: Paper Tiger Eats.
Owned by longtime Green City Market shopper Rick Shi, Paper Tiger Eats is serving up grilled meat skewers, scallion pancakes, and housemade jerky, potato chips, and pickled vegetables, all sourced from local farmers like Mint Creek Farm, Jake's Country Meats, and Jacobson Family Farms and seasoned with their own spice blends.
We chatted with Rick about his journey to Green City Market, how local food plays into his business model, and more. Find Paper Tiger Eats every Saturday at GCM Lincoln Park, 7 a.m. to 1 p.m., now through October.
---
GCM: When did you start Paper Tiger Eats? What was your inspiration for opening the business?
Rick: We started Paper Tiger Eats at the end of 2019. I'm a management consultant, that's my day job, and I just kind of got tired of consulting and wanted to take a break. I've always loved cooking and food, so I wanted to see if I could go into the food business.
I was born in China, and ever since I was little, I really enjoyed that kind of food. My grandpa was a great cook, so I remember learning, cooking, and making dumplings from him. And that stuck with me for a while, so when I went and thought about opening a business, I knew I wanted to do something to do with Chinese street food.
So for 2020, I got the business all set up and ready to go and actually applied to Green City that year. I was in the process of doing that when COVID hit, unfortunately. So everything kind of got put on hold.
Then this past year, towards the end of 2020, I partnered with a really close friend, Ryan Cagney. He also loves cooking; he has a spice that he likes last like a steak rub. We pivoted more towards a changing Paper Tiger more into a spice company. So that's what we mainly do right now. We have three different types of spices: a garlic steak rub, a cumin peppercorn spice, and a chili oil.
We decided to apply to Green City Market again, to really showcase the spices, but more importantly also to showcase how our spices can be used to make great dishes, great food. So, you know we're doing more of an Asian street food and barbecue sort of a concept. And here we are!
GCM: What attracted you to Green City Market? What do you hope to get out of your experience at Green City Market this season?
Rick: I used to live down in River North right by the lake, and I would go on runs along Lake Shore and this was, I would say maybe four or five years ago. And I just remember once running along the lake and then cutting through Lincoln Park, and I just happened upon Green City Market. This was when I first moved to Chicago.
I'm a big proponent of cooking fresh, cooking local. I think that's the best way to really showcase your food. I'm a firm believer that the food is what does most of the work for cooking, so that you know if you just make it simple and really showcase the fresh ingredients that's available to you, that will really let the food speak for itself.
Ever since then I've been a frequent shopper and visitor of Green City Market. We're really excited to showcase local ingredients and to connect the wider Chicago community together through food.
It's been really cool to show that you can cook barbecue and you can cook Asian food and Chinese food with local ingredients.