Posted Dec 18, 2021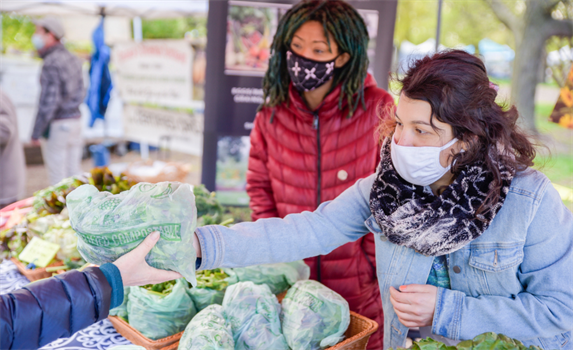 Shopping locally is one of the most impactful ways individuals can create a more sustainable food system. At Green City Market, your food travels an average of just 65 miles to get to your tote — compared to 1,500 miles at a traditional grocery. (That's a lot of fuel and food waste saved).
In fact, some farms are even closer than you'd think: Star Farm Chicago, located in Back of the Yards, is just 10 miles away from Green City Market. Star Farm is one of the 52 farmers and food producers that Green City Market supports. Collectively, our vendors sustainably farm nearly 3,000 acres (and counting) of land each year.
We chatted with Star Farm's Executive Director Stephanie Dunn about her experience managing an urban farm during Covid and beyond and how joining the Green City Market community propelled her business forward.
As a 501c3 nonprofit organization, Green City Market depends on your support to provide essential operating support to our 52 farmers and help their businesses thrive. Please, consider giving a tax-deductible donation today to help lift up Midwest growers and build a more sustainable food system for generations to come.
---
GCM: What impact has Green City Market had on your farm business in 2021?
Being at Green City Market is a dream come true for our farm. It really is. Since I have been going to farmers' markets in Chicago and going to Green City Market, I knew it was the market that I wanted Star Farm to be at.
I'm really happy that we were able to get the certifications necessary to be at GCM and be accepted as a vendor. It has been wonderful working with the operations team over at GCM. They are just on a next level; it is so uplifting, working with them and just seeing an example of all the professionalism, and they're so on top of everything; it's great.
And in terms of just being at Green City Lincoln Park and Green City Market West Loop, it enabled us to launch our farm-fresh juices this year, which was amazing. That was also another dream come true. It's like now we have this product at a market, and it just really elevated the professionalism of our staff and enabled us to meet a whole new group of like clients who might want to come to our farm and come for a farm dinner, or come enjoy a family garden day, or even just come with their school and have a field trip, so it's been really wonderful just meeting a whole other part of the city and and getting to know them you know on a weekly basis.
GCM: Now well over a year and a half into this pandemic, how would you describe the state of the local food system? Any lessons learned as it relates to local food, the supply chain, the ability to access customer bases?
We are here for our city; we're here for everyone whether they're experiencing food insecurity or if they're trying to just support their local food system. It's a mutual relationship; we are here growing food and no matter what happens, food is always going to be a core, fundamental part of our existence and our success here in Chicago.
When we go to markets and we are personally, as the farmers, handing over the produce that we grow, meeting the people that are taking it home and turning it into delicious things, that's part of supporting our ecosystem here in Chicago.
We were really proud last year, during Covid, to step up our pandemic response and respond to people experiencing food insecurity, but also just getting the right kind of food to people and bringing fresh produce to people.
I'm really happy that you know a lot of people are thinking more in terms of the food system. Now with Covid, that's like a conversation piece. Now, we think about it all the time and farmers — we're not growing timber or bamboo; we're growing food because we want to feed people and we're keeping it here in the city. So for all the eaters out there, we're thinking about you, we got your back. We want to make sure that everyone is happy, healthy and enjoying delicious food.
GCM: Do you see Green City Market as an important part of growing your business' future? If so, how and why?
When we sign up and apply to be at a market, we consider that as an investment for us: we're investing in that market's success and that community. I see all the effort that Green City Market puts forward to create a vibrant, world-class farmers' market in Chicago. And that's something that we want to match as well with high-quality, excellent produce, excellent presentation, excellent customer service, and at the same time not just make a transaction. We're there to really engage with the client, whether they buy something or not. Every dollar that people spend at our table stays in Chicago and helps us support a local job right here in the city.
---
If you're passionate about food — where it comes from, and how what we grow, eat, and throw away impacts our planet — please donate today to help local farms like Star Farm thrive.