Posted Dec 07, 2021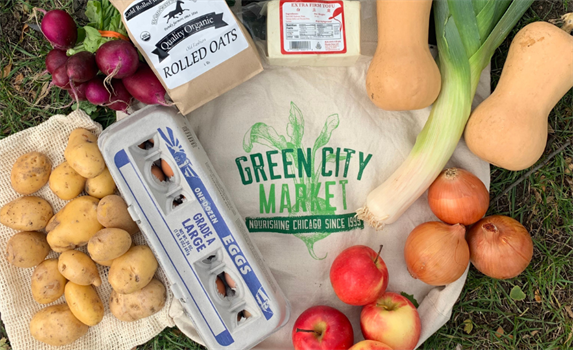 Did you know Green City Market welcomes and matches Link (also known as SNAP or EBT) at all our farmers' markets and through our curbside pick-up program?
When food insecure Chicagoans spend $15 of Link with Green City Market, they automatically get $15 more to spend to make their benefits go further.
Starting in 2022, we're aiming to raise that match to $25. That means folks on Link who would normally only be able to take home $25 worth of food from the market could go home with $50 worth of food, at no additional cost to them.
We spoke with Ewelina, a participant in Green City Market's Link matching program, about her experience. Read Ewelina's story to learn more about how crucial the farmers' market is to her and her family.
As a 501c3 nonprofit, this program, and the 1,000+ families it helps feed each year, depend on your support. Please, consider giving a tax-deductible donation today to help your neighbors in need access the local, sustainable farmers' market food we all love.
---
GCM: How long have you been participating in GCM's Link matching program?
"It's been a few years now that I've been using Link. It's the first year that I've come on a regular basis to Green City Market. I started coming after I heard that you could use your Link at Green City Market."
GCM: Are you typically shopping for yourself or do you also shop at the farmers' market for family members?
"Mostly I shop for my family: my children. I am Polish, and now with what's going on in the world, I'm reconnecting more with my roots. I grew up in a small city, but I had family in the countryside. For me, the access to naturally grown fruits and vegetables was something I grew up with. I want my children to have the same experience.
There is a snack time in school, and I asked the teacher if I could host snack time on Wednesdays because it's market day so it would be easier to bring some really healthy food for the kids in school… I'm excited that I can bring fresh fruit from Green City Market to their school."
GCM: Why do you choose to use your Link dollars at the farmers' market versus a grocery store?
"I am very grateful for Link; I have three children, and it's a huge help for me. I would want all Link card holders to know they could do this [participate in GCM's Link matching program]. Not only does it help me support our local farmers — which I think is crucial for the planet and our future — it's money well spent. I love it. I am so happy that I have this opportunity. It's wonderful that people [on Link] have this opportunity to get high-quality food.
[The $15 match] is a lot of money; to just be given that as a Link shopper is a really awesome perk… Not only can you use your Link card at the market but you can get extra money to spend. I love it; thank you."
GCM: Would you say that your relationship to food has changed at all since the pandemic hit?
"Absolutely. For me, my food is my medicine… I'm in heaven when I can have food that I can get locally, that doesn't have to go across half the world to get to me.
"I think it's part of the experience for me... to go out there and get to know these people, the farmers, a little bit!"
---
If you're passionate about expanding food security in Chicago, consider giving a tax-deductible donation today to help folks like Ewelina access local, healthy, sustainably-grown food.