Posted May 04, 2021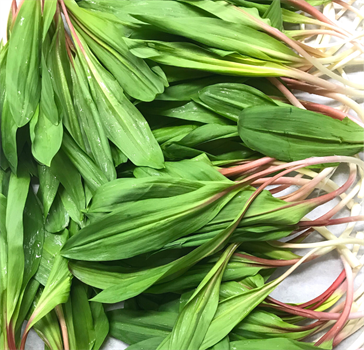 Every Tuesday, Green City Market Program Coordinator, Alex Weyerhaeuser, is bringing you insider info — her recommended, can't-miss product of the week you've probably been sleeping on. Kick off the week with GCM's Fresh Factoid for all the farmers market inspo you need to fuel your article and your community.
---
Three weeks ago, I swallowed my pride and admitted to the rest of the GCM staff that I had never heard of ramps (a species of wild onion) and didn't have the slightest idea what to do with them. (I joined the team after ramps season last year and prior to that I was in college where niche culinary luxuries with fleeting growing seasons were not especially present).

Luckily, my ignorance was met with an enthusiastic response of recipe ideas, cooking methods, and storage techniques.

So this past Saturday, opening day, anxious to learn what all the hype was about, I forayed into ramp world. Ramp compound butter, ramp pesto, sautéed ramps, ramps with pasta — the options seemed endless, so I saved a few to try another recipe later and stored them away in the fridge in a plastic bag with lots of paper towels, like GCM's Chef Educator, Lisa, taught me, and settled on making a quiche because I had 42 eggs in my fridge (that's another story).

I sautéed the ramps on the stovetop first to bring out their flavor and then integrated them in with the egg batter, spinach, and tomatoes. On a decorative whim, I also placed two whole ramps across the top and popped my quiche into the oven.

I get the hype. The flavor of the ramps, smoother and rounder than garlic's sharpness but just as delicious, infused the entire quiche. Whether my bite had leaf, stem, or bulb, I savored the taste, and even in the ramp-less bites, I could feel their presence.

I highly encourage any ramp newbies to stop by Nichols Farm and Orchard, Mick Klug Farm, or Ellis Family Farm at GCM Lincoln Park. Plan your visit today!