Posted May 27, 2019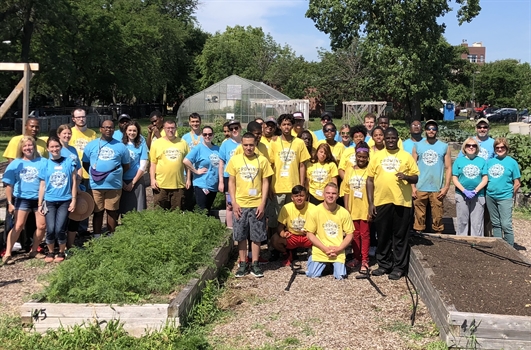 West Loop Newcomers: Urban Autism Solutions
Urban Autism Solutions is dedicated to changing outcomes for young adults with autism. And they are doing that through farming as well as an integrated community life that advances social and vocational opportunities. Their Growing Solutions Farm provides a unique outdoor classroom for participants to learn skills in agriculture, how to follow structured employment tasks and gain soft skills. Teachers, volunteers, and staff engage in daily farm work with participants while modeling and teaching the curriculum that will lead to future success in the workplace and beyond. The Growing Solutions Farm is located near the west loop in the Illinois Medical district at Leavitt and Campbell. Today, they have approximately 30 young adults with autism and related conditions who will join us this season.
Ask lead grower Tucker Kelly what he is most excited about growing this year and he will tell you the vast variety of cut flowers which means they will be able to make more beautiful ornate bouquets. In addition to flowers, you will also see an extensive variety of crops, from root vegetables to fruit, to salad greens, to cooking greens--and three or more varieties of each crop.
In Their Own Words: Urban AUtism Solutions
What do you want people to know about Urban Autism Solutions
The UAS Growing Solutions Farm produces more than 8,000 lbs of fresh produce each season. Our restaurant-quality produce is sold to West Loop restaurants and caterers, at the WLGCM, our weekly Wednesday farm stand and through our CSA program. Equally importantly, we donate fresh produce to our participants, more than 90% of whom are from West Side neighborhoods and come from poverty-level households. We also donate produce to Grace Seeds Ministry to make sure we minimize food waste and give back to the West Side community. We also want people to know that our young adults are hard workers and eager to obtain employment upon graduation. We are always looking for community partners to help them get their foot in the door! We are so grateful to the many businesses and partners we have who support our mission and young adults.
What does farming mean to you?
Because UAS is a nonprofit, farming means more to us than simply food production. For us, farming is about ecologically sound food production and vocational training. Where some see Growing Solutions Farm as an agricultural operation, we see a farm whose participants get away from traditional school settings and have an outdoor classroom that provides a supportive learning environment and serves as a backdrop for exercise, education, and teaching transferable job skills.
What is your third-party certification, why did you choose that certification?
UAS Growing Solutions Farm was certified by Naturally Grown earlier this year. We choose the certification because it is was the most cost-effective option, and because its criteria for compliance was most in line with our environmental concerns.