Posted Jul 23, 2020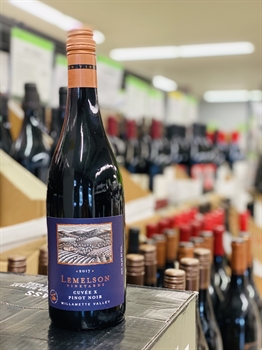 Peter Schwarzbach's family has been in the wine business since 1934. They got their start with a single family-run store on Madison Street right after Prohibition ended, and now they operate three locations in Chicago, Barrington, and Highland Park under the name Vin Chicago.
"Our stores focus on cool wine at the right price," Peter notes. "There's a lot of good wine on the market now, and it's a lot easier to find a bottle of wine that's going to be tasty than it was even 10 or 15 years ago. We'll taste literally hundreds of wines every month, and we separate them into buckets: wines that just don't taste good, the wines that are really good, and of those wines that are really delicious wines, we then see which wines are at the right price."
"We've found that a lot of these 'really good' wines come not from the big producers but from the smaller growers," Peter shares. "It's really neat because in so many areas the big producers have economies of scale — in wine, those don't really exist. We're able to have a very direct relationship with some of these smaller family producers. This relationship with less middle men gets us extraordinary wines at fantastic prices."
As part of Chef BBQ @ Home, Vin Chicago is donating 10% of all online wine sales (!) now through August 16, when you enter CHEF BBQ in the "special instructions" section during checkout.
Read more about Vin Chicago's history, the dynamics of sourcing local food and drink during the pandemic, and simple tips to get the most out of your at-home wine tasting! Then, get your wine game on and order online now to drink for good all month long.
GCM: How do you think the dynamics of shopping and sourcing food and drink locally have shifted since the pandemic?
"People are buying more food and cooking more; the shift to home cooking has been a dramatic part of the last several months. With wine, it's similar; people are drinking more at home, and it's certainly shifted to online shopping. One of the things that Vin Chicago does is every wine that we have has a write-up and tasting notes on our online shop. We've been doing that for years, and we're fortunate because for three months we didn't allow customers in our store just to keep things safe for them and our staff. We were doing curbside pick-up only, which meant we didn't have the opportunity to interface. So much of our selling process is talking to our customers about the wine. We were fortunate that we had our written tasting notes up on our site, which our customers rely on for their decision making when it comes to wine."
"One of the things that we've seen is that the pandemic accelerated some of the things that likely would have happened over the next five years anyway. Because we were all thrown into this - the sellers, the buyers and the producers - the willingness of everyone to adapt and change was so high. Our customers were so willing to try new things and so receptive to procedures that may change day-by-day as the safety situation changes."
GCM: What has been your favorite wine to drink during the pandemic?
"I fell in love with a Loire Valley white. It's a Chenin Blanc from the Loire region, and it's a little bit funky; it's natural, it's organic, it's small production. It's made by a gentleman named Pascal Janvier, and the region is Jasnieres — it's a fairly obscure region in the Loire Valley. A Chenin Blanc grape is a very common grape, but they are very exceptional in how they produce it there. It's perfect with cheese. I very rarely will buy the same wine twice because there are so many cool wines out there, and I must have drank six or seven bottles of it during shelter-in-place because it was just singing."
GCM: Any tips for drinking wine at home?
"The biggest thing people get wrong — and a lot of restaurants struggle with it too — is temperature. People often drink their white wines too cold! With white wines, when you put it in the fridge, about 35-40 degrees, that's too cold for white wine in general. If you have a white wine in the fridge, generally you want to pull it out 20-25 minutes before you drink it. If you pour a glass and drink it at refrigerator temperature, it'll be fine, but the flavors are going to be a bit muted. If you cup the glass in your hand and you swirl it to warm it up, you'll notice the delicacy and a lot more flavors come out in the white wine. If it's 90 degrees and you're drinking outside, don't worry about it starting too cold; it'll warm up quick enough."
"The other thing? Red wine — red wines are typically best at about 60 degrees. Most people keep their houses at around 70 or 72 degrees, or if the wine is in the kitchen it could be much warmer by the time you're done cooking. If a red wine is too warm, it's going to taste a little alcoholic, and the balance is going to be off a little bit. If you put your red wine in the fridge about half an hour before you serve it, you'll get close to that 60 degrees. If the red wine gets too cold, just cup the glass in your hand, and it'll warm up with some swirling. You'll find the nuances and the balance really come out by having that temperature down 10-12 degrees for the reds."
GCM: What similarities do you see between Vin Chicago and Green City Market?
"We're really excited to be working with Green City Market because we have such a similar approach — quality products first at accessible prices. We have a tremendous amount of wines in the $9 to $12 range, and they're good. A $10 wine is better now than it was 20 years ago. If you go to a supermarket, if you buy a $10 or $15 bottle of wine, it's going to be a mass-produced wine. If you shop with Vin Chicago, most of our $12 wines come from family producers. Often the name on the bottle is the name of the person who made the wine, and it comes from a single vineyard or estate, so you know where it came from and you know who made it and how they made it."
As part of Chef BBQ @ Home, Vin Chicago is donating 10% of all online wine sales (!) now through August 16, when you enter CHEF BBQ in the "special instructions" section during checkout. In need of a suggestion? Experts at Vin Chicago suggest the following natural wines to pair with the incredible chef demos featured during our event: