Posted Aug 06, 2018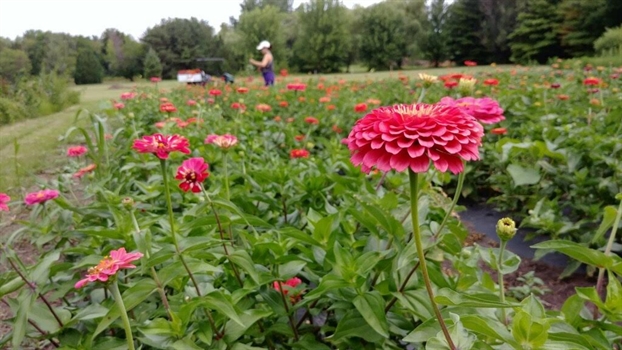 Petals Farm is a family operated farm specializing in growing the best, unique floral varieties, from fragrant spring peonies to harvest wreaths and bouquets in the fall. Their selection is consistently changing throughout the growing season.
The farm is owned by farmers Heidi and Troy Ong. In 1992, Heidi's mother, Nancy Kapelak, originally started growing flowers as a hobby while Heidi went to college. 26 years later, the Ong family grows on 29 acres, including the 5 acres that their family lives on. They employ 4 hardworking, amazing women at their farm. Their farm is located 45 miles northwest of Chicago in Huntley, Illinois.
Petals Farm has a commitment to sustainability and safety. Their crops are never subjected to any chemicals, including pesticides and herbicides. As with many farms, their land is prone to weeds. Instead of using chemicals, they use weed suppressing mulch, which helps reduce the weed pressure and retains moisture for the plants.
Not only do they tend to their crops, but they take care of the insects and pollinators on their land to ensure that their flowers are well pollinated and cared for. Instead of relying on artificial fertilizers to grow their plants, they let worms on their farm do their job by creating natural castings to fertilize the soil.
Fun fact: they have greenhouse that is running on recycled oil!
Petals Farm is at GCM Lincoln Park every Wednesday and Saturday from 7am-1pm.