Posted Aug 14, 2018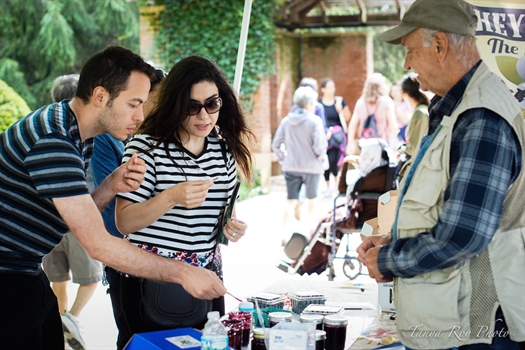 Blueberry season is upon us! Even though the season is fleeting (just 3 weeks left for fresh blueberries), blueberry season never ends at Green City Market thanks to Joe's Blues. Joe's Blueberries is a family farm located in South Haven, Michigan, in a region that many call the "fruit belt." "It's comparable to the west coast's wine country - the climate here creates the ideal soil conditions for growing all sorts of fruits," notes Frank from Joe's Blues. You'll notice many GCM farmers from this same region.
In 2008, Frank Corrado and his son Joe Corrado started Joe's Blueberries. Shortly after, they fully implemented sustainable practices on the farm, and currently are certified by the Michigan Agricultural Environmental Assurance Program, which helps farms ensure their practices are environmentally sound. With help from a small grant, they've even helped nearby farms transition to sustainable agricultural practices too. Joe's Blueberries has been part of the Green City Market community since 2014. "We love the customers at Green City Market - they're loyal, fun to engage with, and open-minded," explains Frank.
Joe's Blueberries seeks to highlight and preserve the sweet, peak flavors of blueberries - differentiating its products from what Frank calls the "blah-berries" we've all tasted before from the grocery store. To this end, Joe and Frank have grown their business and diversified their product line. Participation in Green City Market has helped spark the development of an assortment of value-added blueberry products. Joe's not only specializes in flavorful, naturally-grown fresh blueberries, but also:
Blueberry

jams- even a sugar-free option made with just

blueberries

and lemon juice
Dried

blueberries

- with no sugar added

Blueberry

soaps

Blueberry

sea salt

Blueberry

ice cream made in collaboration Mooville Creamery
A year-round

blueberry

CSA with 11 pickup spots throughout the Chicago area!
Next up:

blueberry

dog treats
You can visit the farm, too! If you're planning a trip near South Haven, you can stop by to pick blueberries or visit their on-farm walking trail, where you can learn more about wildflowers, blueberries, and pollinators. So next time you're craving blueberries in February, don't fret - and don't reach for the blah-berries! Just stop by Joe's Blueberries at the Indoor Market for a bag of frozen berries or a take your pick at a variety of blueberry-inspired provisions.
Joe's Blueberriesis at Green City Market Lincoln Park on Wednesdays and Saturdays, and at the Indoor Market at the Peggy Notebaert Nature Museum during the winter months.
Wish berry season lasted forever? You're in luck: In addition toJoe'sBlueberries, many fruit vendors at the market also have frozen berries available at different points throughout the season.