Posted Aug 27, 2019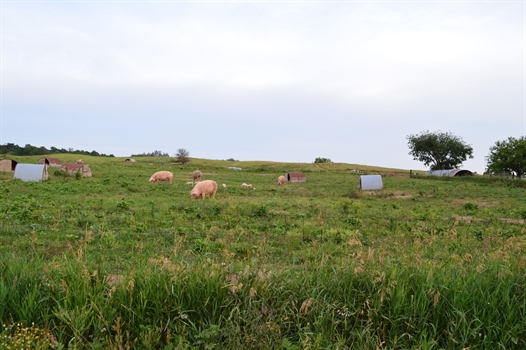 Six generations of farmers, curating the same land and creating amazing tasty meats is what the Robinson family has been doing on their farm in southwest Michigan since the 1870s.
In 1998, the family wanted to create a direct connection between producer and consumer and that is when Jake's Country Meats was born. Known for raising heritage breed pigs, the Robinsons have continued to build their sustainable farm, "by adding Highland Cattle, Cornish Cross chickens, and Broad Breasted turkeys that graze rotationally with pigs".

By using these environmentally sound practices, Jake's has been able to maintain their pastures and create nutrient-rich grass for their animals.
A Difference You Can Taste
The care that goes into maintaining the land and taking care of their animals is why we are able to enjoy the amazing country style ribs, pork chops, chicken, honey ham and so many sausages that Jake's produces. But wait, there's more... did you know Jake's has a raspberry chipotle bacon? Can you imagine how delicious that would be on one of their burgers this Labor Day?
"We love what we do because we are able to create lasting and important relationships with incredibly different people all while creating quality food you can trust. Food that sustains and nurtures our bodies, and tastes great," says Renee Robinson of Jake's Country Meats.
Renee, tell us about your farm/business?
Jake's Country Meats was created in 1998 to begin a connection between producers and consumers. Our family has been farming the same land for six generations, specializing in pasture-based livestock farming.
After deciding to direct market our products, we started developing relationships with our consumers, which has directly fueled the momentum of the work done on our farm. Our farming practices which include raising animals on pasture, without antibiotics, while using non-gmo grains are charged by the people who support us, and each year more people join and influence our story.
What makes you stand out as a farm and Green City Market vendor?
We believe the time and experience behind our business makes us unique in a vastly changing industry. Our history gives us a solid foundation, creating dependable growth, and years of experience as farmers and as marketers. It gives us an edge when serving others.
What advice would you give to a first-time shopper? What should they try?
Ask questions and tell us more about you. The more we all know, the better we can serve you not only as farmers creating your food but as a business and beyond. We have a vast array of products, but one that may surprise and excite you the most is our Raspberry Chipotle Bacon; it's so good.
What do you want people to know about Jake's Country Meats?
We want you to know that we are here to stay, we are here to grow, to learn, and we know that can only be done by support from you while being transparent. We will make mistakes, but will always work hard at getting it right.
What are the can't-miss items at your booth?
Don't miss out on the vast variety of proteins we offer. Beyond our pasture-raised pork that includes simple-ingredient sausages, and naturally-smoked meats, we also have pasture-raised chicken, goat meat, wild-caught Great Lakes fish, and more! We even have meat sticks and jerky to elevate your snack life.
What is your personal favorite product and how do you prepare it?
The fan favorite from the Jake's team is our pork shoulder. It's hard to beat. Try a boneless shoulder roast or a bone-in pork steak. You can find multiple recipes and stories about our farm by visiting our farm blog here or by signing up for our newsletter on our website here.
What should people know when they come to Green City Market?
Get excited, because you are in the right place. Besides visiting a farm, farmers market's are the best place to get to know the story behind the food you eat. Supporting a farmer's market is a great way to make changes in the food industry. You can carry with you things you learn, and create ideas that provide power to your food dollars.